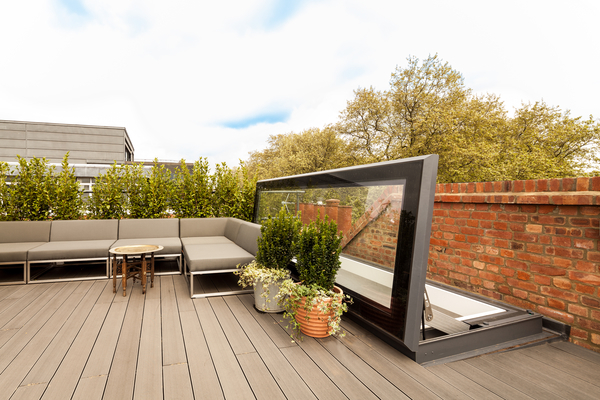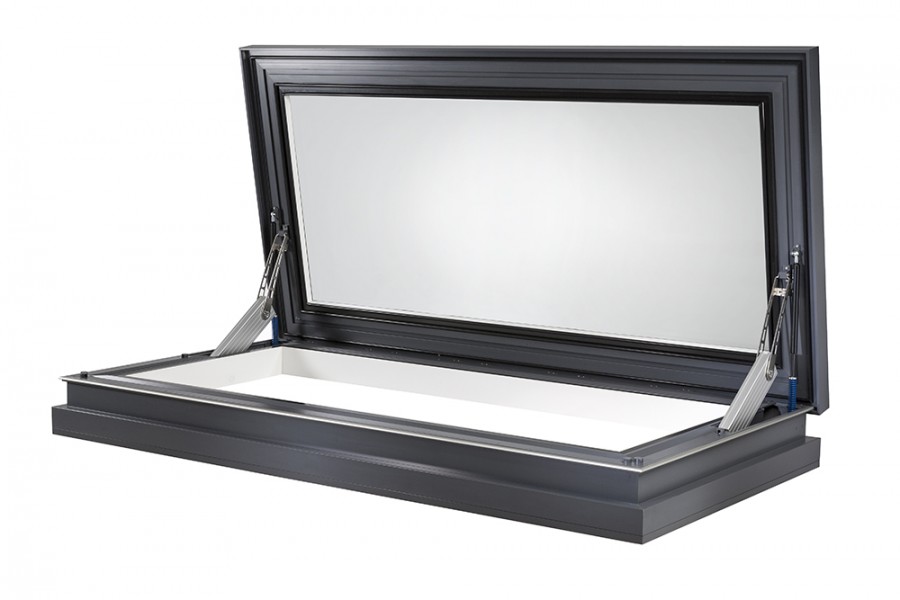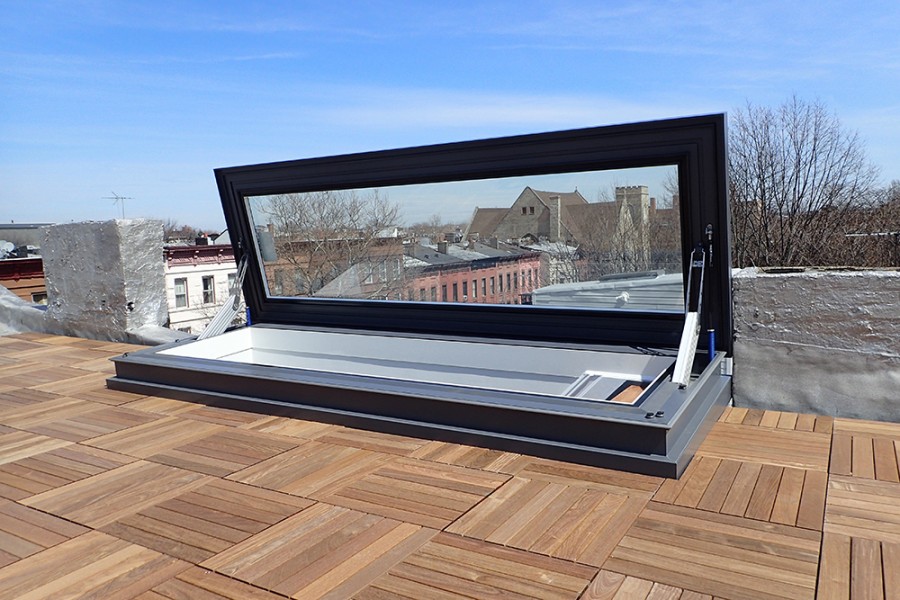 Glazing Vision offer the VisionVent range for hinged ventilation and the Skydoor, and Skyhatch for hinged access. Our VisionVent rooflight range continues the design ethos of minimum framework, maximum daylight whilst offering a means of harnessing natural ventilation.
The entry level rooflight is a manually operated unit which is opened using a screw jack and telescopic pole mechanism. Opening size will vary depending on the size of rooflight but is roughly 30°. The VisionVent chain drive replaces the manual winding mechanism with an motorised chain driven unit. This means that the rooflight can be opened at the touch of a button without the need for a telescopic pole and hook.
The electrically operated VisionVent is our top of the range ventilation rooflight. Twin motors and mechanisms are hidden within the framework which keeps visual clutter to a minimum as well as making the mechanisms secure from attack when the unit is closed. Security is further enhanced by the hinge design which runs along the entire width of the rooflight. The hinge is part of the actual framework extrusion itself, not a separate mechanical fixing.

The Skyhatch range of roof access rooflights are designed specifically to provide a cost effective means of accessing your roof to carry out maintenance with the minimum of effort. There are two versions available:
The Skyhatch manual is our entry level access rooflight and does not require any power, this version of the Skyhatch is used where access to the roof space is less frequent and is commonly installed for maintenance access. The manual version opens to a maximum 75° at full travel and it cannot be partially opened so is not designed to act as a ventilation roof light.
The Skyhatch electric is an maintenance access unit primarily, opening to a maximum 80° at full travel and can be stopped at any point to serve as a natural ventilation rooflight. The extruded aluminium framework is thermally broken and supplied as standard in dual colour Qualicoat approved powder coat. Power is supplied by an external 24V 300W supply as standard and the rooflight is operated by the intelligent LED wall switch supplied. Dual lift twin mechanisms provide reliable and stable support for the lid section when fully open.
For regular access to a roof, such as a roof terrace, Skydoor is the perfect solution. The Skydoor is our most popular hinged access rooflight and is designed for day to day access to your roof space, ideal for terrace areas on flat roofs. Operated by our intelligent LED control switch, the unit will respond to both one touch and press and hold requests. The Skydoor opens out to an impressive 87° at full travel by means of synchronised dual actuators but you can also stop the unit at any point mid travel which means it can be used as a natural ventilation rooflight too. With just a press of a button you have comfortable, easy access to the terrace or roof space in less than a minute.