A new spray-applied insulation adhesive from Sika roofing is set to cut installation times by up to 20 per cent for the company's network of more than 400 Sika-trained roofing contractors.
The latest in a suite of spray-applied products from Sika designed to make installation quicker and easier for contractors, Sika C-250 Spray is suitable for use across all Sika roofing brands – Sika Liquid Plastics, Sika Sarnafil and Sika-Trocal - and is compatible with all substrates.
Ian Muddiman, Head of Applications, Roofing at Sika explains: "Sika C-250 Spray's ease and speed of application will reduce project delivery times, labour costs and waste enabling contractors to make significant financial savings on warm roof installations, while ensuring even distribution of the adhesive and excellent adhesion integrity.
"The new product innovation is part of our investment in developing solutions that help our customers to address the challenges they face on site, improve efficiency and reduce installation costs.
Each recyclable 25.4kg metal canister of Sika C-250 Spray contains 18.4kg of adhesive; sufficient capacity for an approximate 140m2 installation area. The targeted spray nozzle ensures accurate, efficient distribution of adhesive. The pressurised canister can be completely emptied of its contents, turning the canister into scrap metal. This reduces waste, preventing up to 12 containers from being sent to landfill per 140m2 of installation area and avoiding the need for any specialist waste disposal arrangements.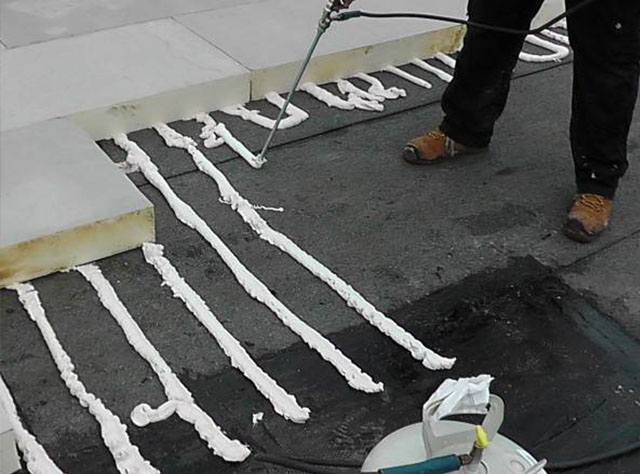 Suitable for both refurbishment and new build projects, the high foaming spray adhesive is designed to bond insulation boards to any substrate, with fast grab to enable rapid project completion. For refurbishment installations, it allows for substrate undulations.
Ian Muddiman adds: "The tooling is designed to be ergonomic which reduces the stress on the user and we have developed Sika C-250 Spray for use with the same tooling as our Sika Primer 610, so it can be flushed, cleaned and interchanged, reducing the amount of kit our contractors need on site while helping them to ensure excellent installation quality.
"Once again, C-250 demonstrates our market-focused approach to new product development and we're confident it will be a game changer for the
industry."