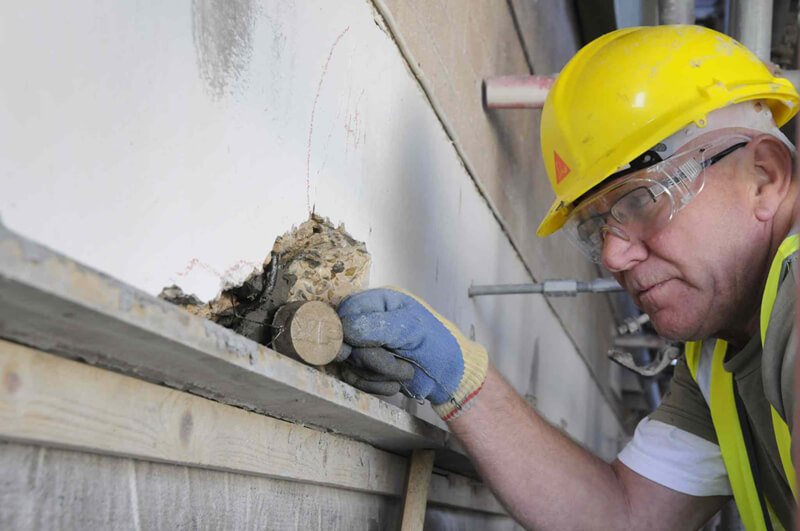 Galvanic, sacrificial anodes have proved a successful corrosion control system in chloride-contaminated structures. The process of installing the small cementitious shell which encases a zinc core is simple and extremely effective in protecting steel reinforcement in chloride-infused concrete.

How it works
Sika® Galvashield® galvanic, sacrificial anodes can be installed within the repair sites to prevent incipient anodes developing or outside the repaired sites to protect the reinforcement in chloride – infused concrete.
It's quickly and easily fastened to exposed steel reinforcement in repair sites or into cored and grouted holes in the concrete outside the repair sites. Once installed, the anode's zinc core corrodes sacrificially to protect the surrounding rebar.
Building on the revolution
Galvanic anodes have revolutionised the way we treat chloride contaminated structures and offer a cost effective alternative to Cathodic Protection under certain conditions. But can the system work in carbonated concrete?I'd say absolutely yes. Currently, repair standards and advice notes dictate exposed reinforcement should only be treated using grit or water blasting methods to remove rust and clean the reinforcement to a suitable surface standard. But in the repair of buildings such as social housing stock in large suburban areas where carbonation is more prevalent, an alternative repair system can be considered on environmental and safety grounds – and this is where anodes score highly over grit & water blasting
Energy efficient repairs
It takes a lot more energy to grit or water blast corroded steel. There's a plethora of equipment involved which requires heavy electricity / water usage and protection sheeting. There's also the question of sustainability. Grit needs to be produced,used and recycled afterwards or disposed of as contaminated waste.Water savings similarly can be seen and support our sustainability initiatives.
With the Sika® Galvashield® galvanic, sacrificial anode system, the reinforcement can be hand or mechanically prepared by wire brush or abrasive paper. The corrosive damage doesn't have to be eradicated to the same level as if using grit or water blasting as the galvanic anode will control future corrosion.
Clothing and certification
Unlike the extreme protective clothing that is required by the grit/water blaster operatives, anode system installers use the same protective equipment as for handling the concrete repair systems. Also operatives using the grit and water blasting methods need official training and certification to use the equipment. Sika® Galvashield® installers just require basic training at our Training Academy.The Sika® Galvashield® galvanic, sacrificial anode system is better for resident and operator, and a considerably quicker, safer and more cost-effective way of treating reinforcement in carbonated concrete.
Unique to Sika
Sika offers a unique guarantee. Once repairs have been carried out to all parties' satisfaction, we will guarantee the repair system for up to 20 years. And as well as supplying the anode, unlike other manufacturers, Sika provides repair materials and coatings as part of the Total Corrsion Management (TCM) package.
Overall, I firmly believe the Sika® Galvashield® galvanic sacrificial anode system will become the cost-effective, environmentally-friendly long-term alternative to grit and water blasting reinforcement in carbonated concrete, upholding Sika's reputation as a global leader in the manufacture of building products and systems and innovative sustainable solutions