Sika ensured there were no dramas during the installation of a super flat anti-static flooring system at ITV Studios in Leeds.
For their latest TV studio, due to be used to shoot scenes for the nation's favourite countryside-based soap opera Emmerdale, ITV required a high-spec flooring solution that would work in harmony with their HD cameras. This meant that the floor not only had to be completely flat but also boast exceptional anti-static qualities.
Contractors Zircon Flooring was selected to carry out the installation, a task further complicated by the live nature of the ITV Studios site, which restricted their movement, storage and access when filming was taking place.
To achieve the super flat finish, Zircon Flooring painstakingly installed more than 2,100 plugs and screws in the floor, achieving a tolerance of just +/- 1mm over a two-metre straight edge, this exceptional attention to detail meant that they exceeded the requirement of the British Standard SR1 floor tolerance, which is +/- 3mm over the same distance.
To overcome the anti-static issue, Sikafloor® 262AS – a two-part electrostatically conductive textured epoxy coating – was selected. The system offers excellent chemical and mechanical resistance as well as superb non-slip performance. Sikafloor® 262AS is designed to deliver the ultimate in static control and has an excellent reputation in industries where there is sensitive electronic equipment.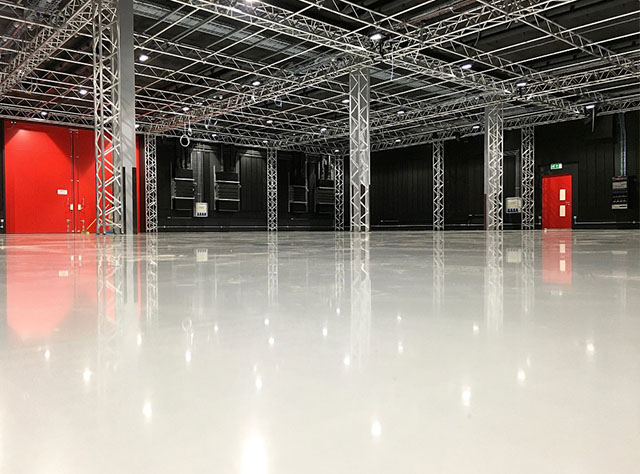 Work started on the studio project in April 2017 and was completed to the client's full satisfaction ahead of its strict August deadline.
Stewart Draper, Managing Director at Zircon Flooring, said: "The pressure to provide a fit for purpose studio floor for one of the country's leading soap operas – Emmerdale – governed by a tight time schedule fitting in and around live filming and numerous other trades was challenging to say the least. With a strong, knowledgeable, fully committed and highly trained team and through specifying Sika products, Zircon Flooring we were able to complete this task on time, on budget and extremely successfully.
"The ITV Studio project provides a perfect example of how a strong contractor/manufacturer relationship can help deliver results of the highest quality. Zircon and Sika has developed a superb professional partnership over the years, having worked conjunctively on many flooring projects during that time."