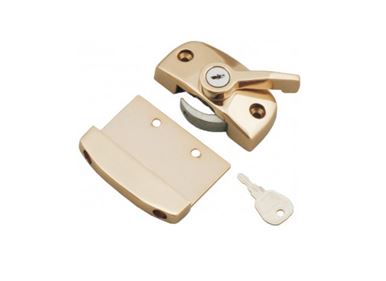 Cam-Lok - Manufactured in two options for either standard or heavy-duty window applications, the stylish or slimline designed Cam-Lok is designed for both lateral and vertical seal compression and is available with or without key locking.
Sash-Lok - This unobtrusive restrictor provides easy use for ventilation, whilst restricting further movement with a positive spring operated stop at a premeditated point.
Cam-Lok HD High Security - Tested to BS 7950: 1997 revised issue 3, 2007 (Enhanced Security Performance). The unique features of the Cam-Lok HD integrated security range of Vertical Sliding Sash products includes Cam-Lok HD, tilt latch, operating buttons and sash blocks.
Tilt Latches - J.Banks manufacture a wide range of products specifically designed for vertical sliding sash windows these include, Tilt Latches, Tilt Stops, Tilt Shoes, Tilt Latch Knobs, Sash Lifts, Finger Rings and lift handles.
Knobs, Sash Lifts and Pull Rings - Knobs, sash lifts and pull rings available in brushed steel, black, chrome, gold, polished brass, white and anodised silver.