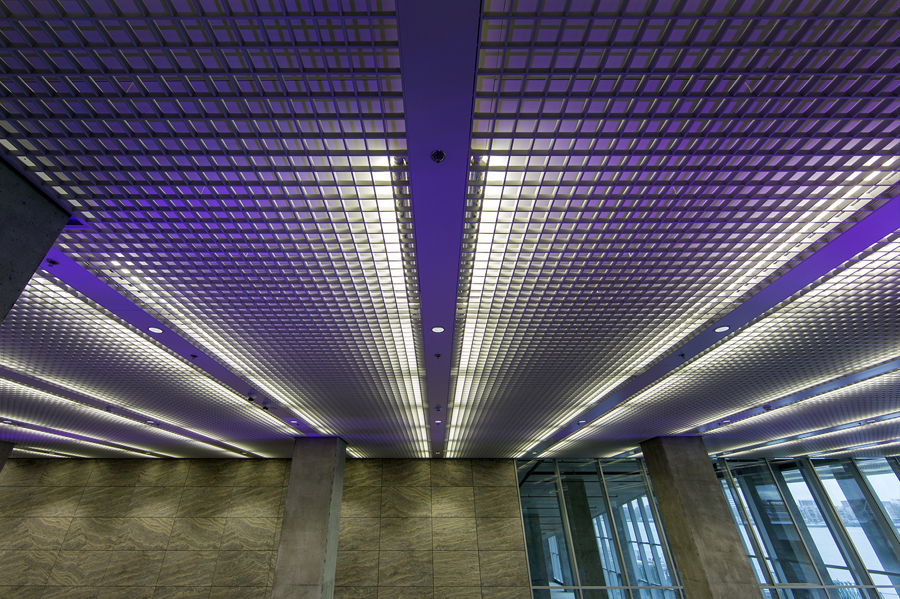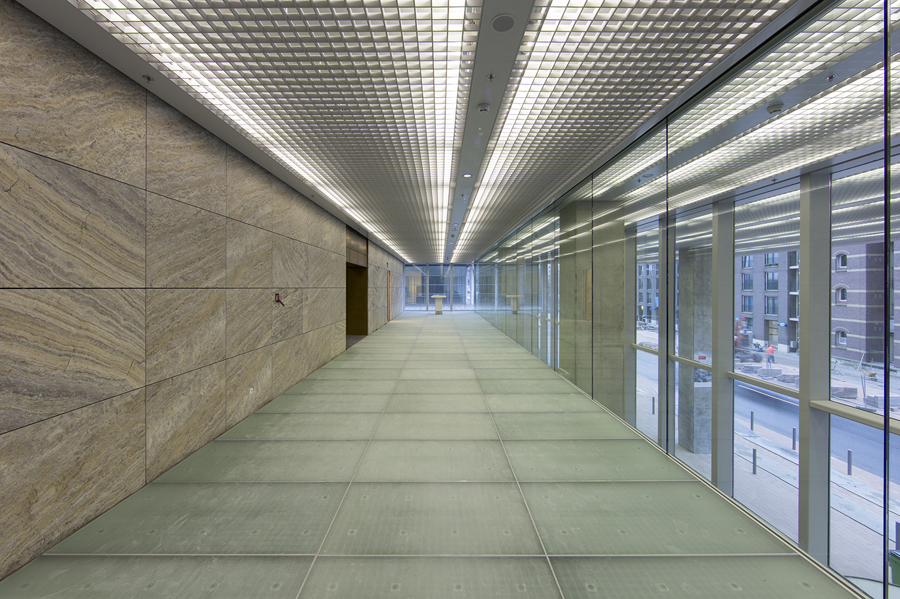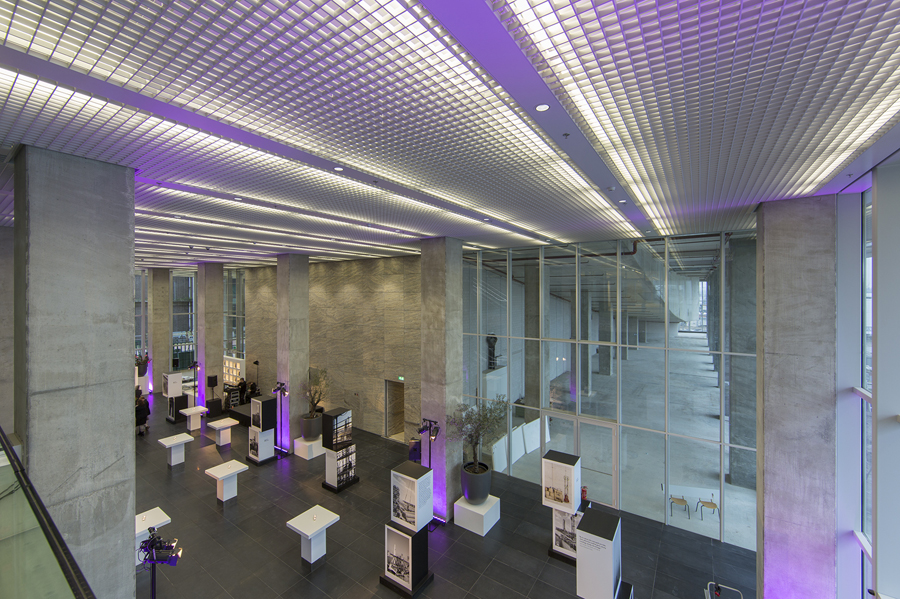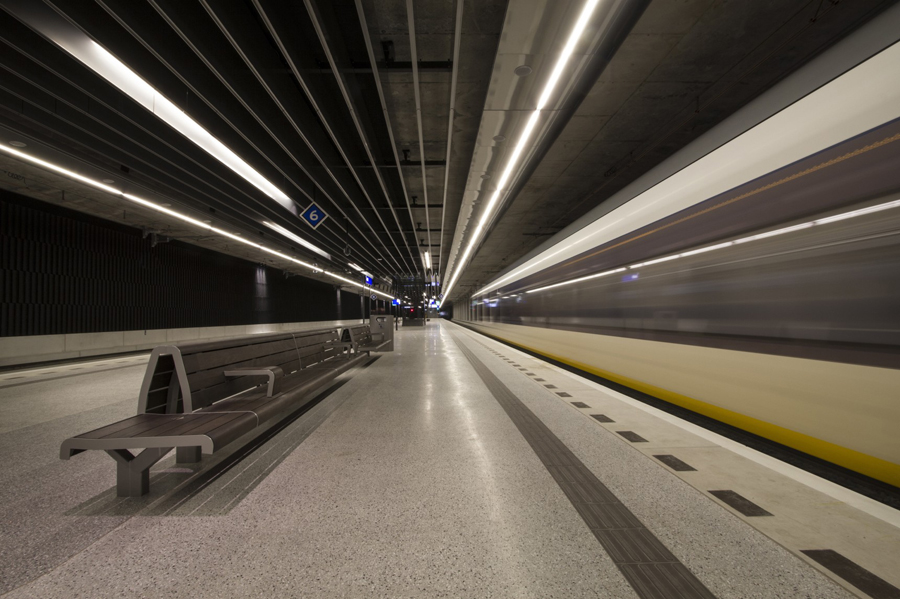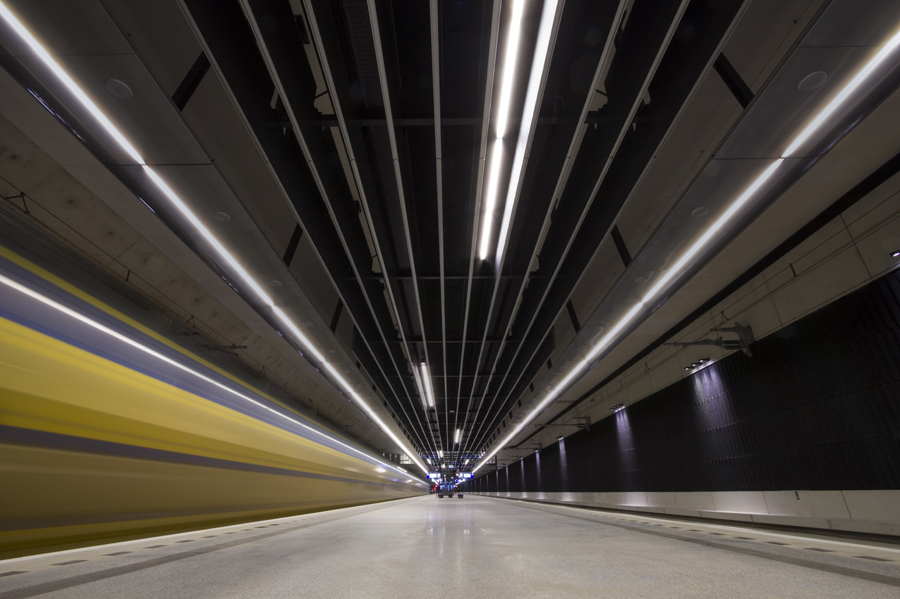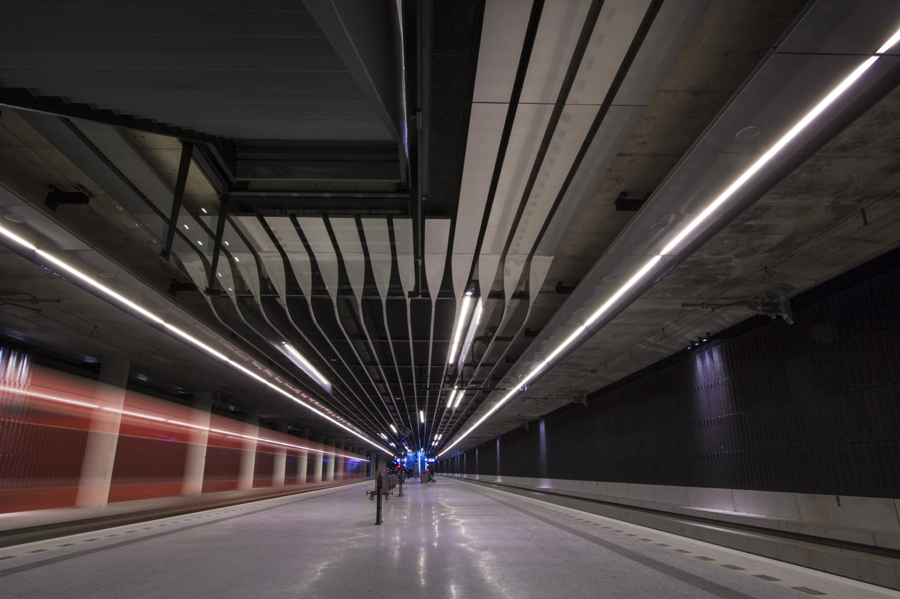 Forty years ago, we pioneered suspended metal ceilings. We've been hard at work ever since. At Hunter Douglas, we make sure architects have the solutions they need to build the projects they want. With metal ceilings in aluminium, steel, copper and stretch metal, in types ranging from linear and wide panel to open cell, curved and tile, the only limits are in your imagination.
Our 300 mm wide panel ceiling system establishes a distinct, robust look. Panels span lengths up to 6 m, requiring fewer panels and joints to reduce installation cost. With three joint options and a variety of perforations for acoustical performance, our wide panels trim costs without rimming style. They are a quick way to make a big first impression.
No matter your style, our linear ceilings have the looks you love. Employ smooth, clean lines or intermix sizes of our linear panels to create a staggered, multilayered look. Whatever your project's needs, our linear ceilings give you the freedom to think inside or outside the box.
Curved metal ceilings are the perfect way to create arches and multilevel designs. Panels up to six meters in length let you define spaces large and small. With excellent acoustical properties and a variety of colours, finishes and curved options, these panels might just be the wave of the future.
Cell
Our open-cell ceilings help define a space and create interesting shadows and lighting effects. Available in a range of sizes and colours, our cell ceilings provide a plenum mask that emphasizes creativity.
We offer two open cell ceilings:
Cell systems, a fully flexible, modular system
Cell tiles, a standard-sized product
Luxalon® V100/V200 screen ceilings are engineered to dimensionally define the ceiling plane. Consisting of vertically hung, 'floating' panels, V100/V200 creates unique visual patterns and lines without compromising the sense of a spacious environment. The unique look of this system can be further enhanced by incorporating V100/V200 Deco to the screens. Luxalon® V100/V200 screen ceilings mask the plenum while allowing easy access as well as efficient performance of air conditioning, lighting, and sprinkler systems.
All Hunter Douglas® XL panels are based on composite technology that originate from the aircraft industry. This state of the art technology results in extremely flat panels.
Pre-coated aluminium skins are roll-formed and integrated with honeycomb reinforcement and aluminium fixing extrusions.
Luxalon® Stretch Metal Ceiling systems from Hunter Douglas offer the combination of style and functionality for which we are known. These systems are available in different installation concepts. Stretch Metal Tiles and Planks provide easy access and are ideal for situations where regular maintenance or service is required on installations in the plenum. Luxalon® Stretch Metal offers architects contemporary design freedom. With these versatile materials it is easy to create an optical contrast to other surrounding materials. The wide choice of patterns, materials and colours gives every project a unique appearance.
These square and rectangular tiles blend style and functionality, offering a clean, monolithic look and a variety of options. Our Lay-in and Clip-in Tile systems offer various perforation patterns and joint systems to ensure every project has its own 'sense of tile'. Panel flatness, steady joints and minimum panel tolerances ensure the quality of our tiles. The Lay-in and Clip-in Tiles are made of a highquality alloy, ensuring a superb ceiling system.
Why keep your vision locked inside? Bring style outdoors with our exterior ceilings. These panels are attached to rigidly suspended carriers, engineered to withstand severe conditions. From linear and wide panel to curves and tiles and from awnings to canopies to roofs; big or small, exterior's got it all. Exterior ceilings are specially developed with the same aesthetic appearance as interior ceilings allowing a wide range of design possibilities.