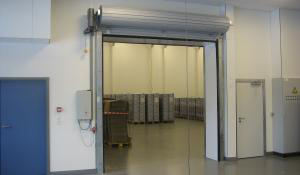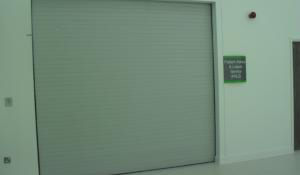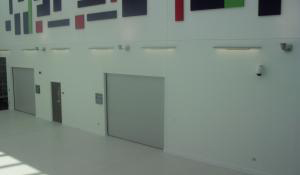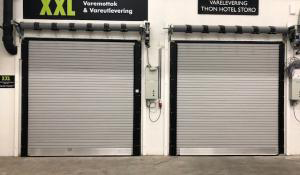 Fire Resistance
Tested to BS EN 1634-1 successfully meeting both integrity and insulation requirements for 60 minutes (EI60 rating in accordance with BS EN 13501-2).
Curtain
Constructed from 63 x 36mm synthetic material laths infilled with high-performance insulation.
Bottom Rail
Comprising a standard lath fitted with an extruded PVC bottom seal.
Guides
The side guides are formed from galvanised steel channels with a black intumescent insert and prepared for fixing to the opening structure.
End Brackets
Fabricated from galvanised steel of adequate thickness relative to door size and supplied with steel plates for fixing to the structure.
Roller
The roller is manufactured from mild steel tube of sufficient diameter and wall thickness to resist deflection and is mounted in bearings on each end plate.
Finish
The shutter curtain is supplied in a grey self-finish as standard.
Weight
Approximately 50 kgs per m².
Operation
Electrical operation is by means of a direct drive three-phase motor mounted on one endplate. In the event of fire and / or mains failure, a 24volt DC auxiliary drive unit closes the door.
Controls
A control panel is supplied for mounting at high level which incorporates batteries and a facility for an incoming fire signal. Cables between panel and motor are to be flameproof. Low level control is by wall-mounted push buttons.