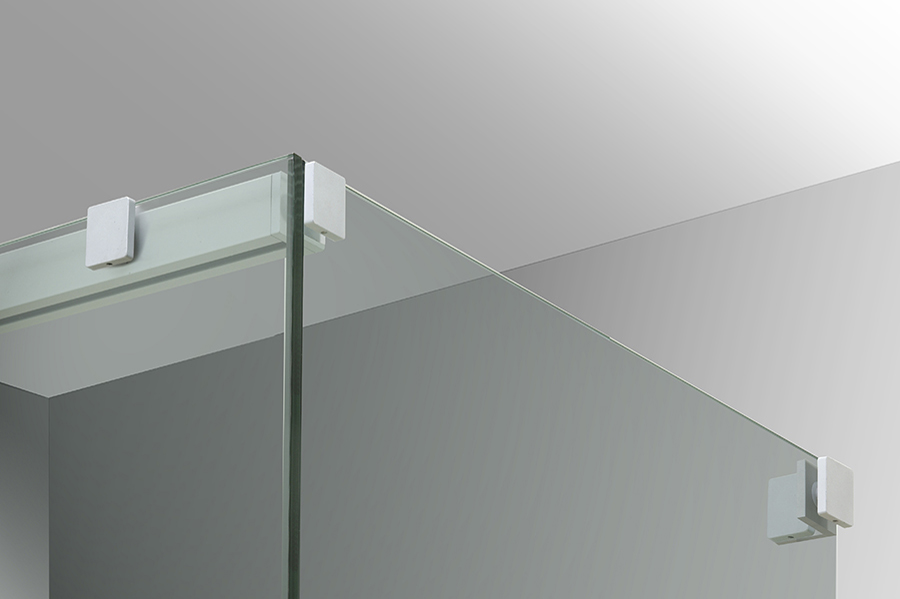 CRL COMPACT-X is a compact sliding solution for frameless glass panels, combining latest technology with an attractive minimalist design. The system is quick and easy to install, and is particularly appropriate for domestic and commercial applications, where it integrates seamlessly into any design.
Suitable for glass panels of 8mm, 8.76mm, 10mm, and 10.76mm in thickness, and to a maximum weight of 70Kgs, the COMPACT-X conceals all of its sliding components within the top track, giving a pleasing aesthetic appearance. The soft brake system provides an advanced and pleasing sliding action, whilst at the same time enhancing safety; fingers are protected from becoming trapped on the closing cycle of the glass panel, which itself is also protected from impact damage. Double softbrakes, providing both soft opening and soft closing can be installed on a frameless glass panel to a minimum width of 635mm.
COMPACT-X is offered for ceiling, glass, and wall mounted applications; the system offers a unique feature, in that the distance between the wall and the glass panel can be adjusted between a minimal 16mm up to 24mm depending on design requirements, thereby adding a useful versatility to the other benefits of the system.
COMPACT-X is offered in two top track finishes; Satin Anodised Aluminium and a premium Brushed Stainless Steel Aluminium finish. In addition the system has been tested to 100,000 cycles in accordance with European performance standards EN1527 / EN1670.
Chris Pepper, Marketing & Business Development Manager commented;
The COMPACT-X Sliding Door System is an excellent product offering great quality and value, with a range of benefits such as double soft close, an uncluttered design and easy installation. It's a 'stand out' addition to our Door Hardware range.
CRL
C.R. Laurence (CRL) is the leading supplier to the glazing, railing, architectural, and construction industries. Offering more than 50,000 products, the company serves the industry from locations throughout North America, Europe, and Australia. The company designs, engineers, and manufactures a wide variety of architectural hardware, including commercial and residential architectural railings, hardware for "all-glass" commercial entrances, transaction hardware, and frameless shower door hardware.
The European head office in Rochdale stocks CRL's extensive product range, and also features a large product showroom area. Here, visitors are able to view high quality glazing hardware and accessories, for example glass balustrades, railing systems, locking ladder pulls and shower door hardware. Architects and designers alike are all welcome to visit, to view the facilities and the fantastic product range in the display area.