London Concrete, the leading supplier of specialist concrete, has provided an innovative heavyweight concrete solution to support the track slab construction on the Crossrail project, from Bond Street station through to Farringdon station.
The heavyweight concrete will minimise the noise and vibration generated by the Elizabeth line when it is in service, especially in sensitive areas where there are recording studios above.
London Concrete responded to the challenge and entered into a contract to supply ATC JV (Alstom, TSO and Costain, the contractors installing track on the project) with 4,000m3 of specialist heavyweight concrete track slab, which is constructed using MagnaDense, a natural dense aggregate around twice as dense as normal aggregate.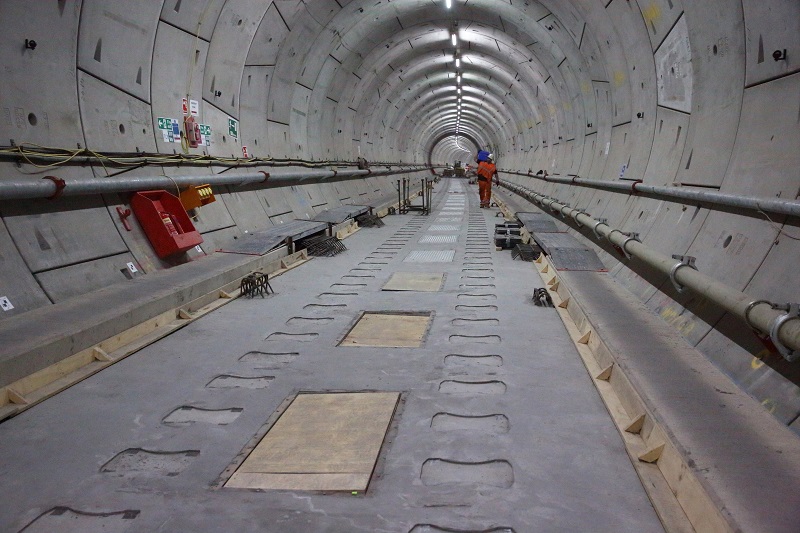 In total, three grades of heavyweight aggregate as well as normal sharp sand were used to achieve the required density. MagnaDense from LKAB Minerals is formed of black ferrimagnetic natural iron oxide (Magnetite) and is mined in Kiruna and Malmberget in northern Sweden, before being railed to the Narvik port in Norway and shipped to the UK.
The technical team at London Concrete were involved and engaged with ATC at an early stage to assist with the design and development of the mix design and dedicated 12 months to an extensive trial process. This work was broken down into Laboratory and Plant trials culminating in a full pumpability trial of the final mix design before any concrete was supplied to the site. Due to the complexity of the concrete mix and its components, London Concrete established a dedicated Site Plant at Battersea to meet the requirements of the contract. To add to the challenges faced during the trial phase due to the complexity of the mix, the final product included the use of pulverised fuel ash (PFA) to aid pumpability as well as provide and meet the durability requirements of the specification.
Additionally, access for delivery of the concrete was only possible at night, which meant that both the works and concrete supply would be undertaken at night time.
Luke Smith, London Concrete Managing Director, comments: "As the leading supplier of specialist concrete and heavyweight aggregate in London, we were ideally placed to respond to the complex challenges of this project, while ensuring excellent customer service. It was crucial that we provided a tailored and bespoke mix. The delivery of the concrete also required an innovative approach due to the need for long distance pumping, as the requirements of the project meant that a distance of over one kilometre horizontally needed to be achieved. Overall it was a particularly complex job with no margin for error.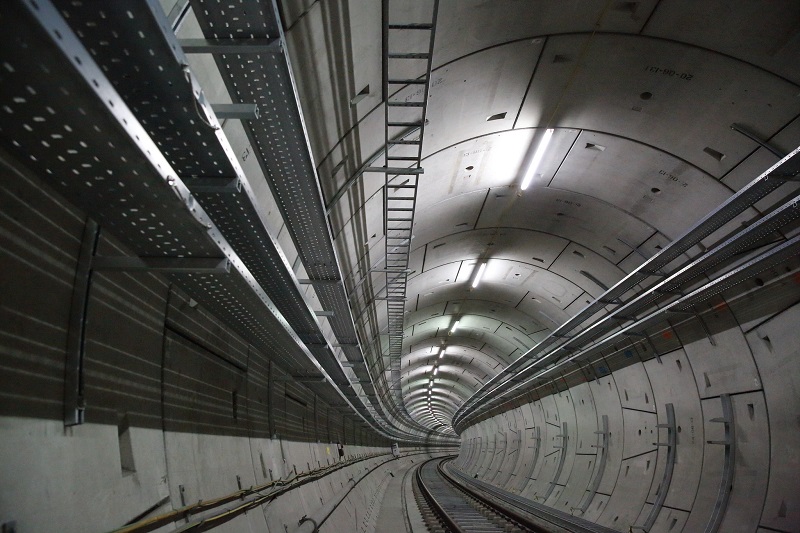 "Our unique plant offering at Battersea gives us the ability to handle a multitude of aggregate types, which meant we were able to work collaboratively with ATC and provide a bespoke concrete mix that hasn't been used in this type of rail application before – typically this type of concrete is used in land-based applications focusing on radiation shielding for medical or nuclear environments. Our network of partners, such as LKAB minerals, meant that we were ideally placed to source the correct mix of aggregates and ship these in from overseas, through Grimsby and down to London just in time to meet the project requirements and programme.
"It is a perfect example of how we work closely with our partners to provide innovative solutions and not a 'one size fits all' product."
Pumping has been carried out by Camfaud Concrete Pumps Ltd, using one of its Putzmeister BSA2110HP static pumps with another high pressure pump being used as a back up to the main pump and also to clean the lines using a water washout system. The concrete has been pumped through 1,100m of pipeline, during which time there is approximately 40 tonnes of material contained in the line.
London Concrete started work on the project this summer and is scheduled to finish in 2017.
London Concrete provides a full range of ready mix concrete products for the construction industry throughout Greater London, via its network of 12 plants. London Concrete is part of Aggregate Industries, a LafargeHolcim Group company.