Architects and designers have been exploring Biofit, the world's first biophilic gym concept, through a unique garden-like pop-up exercise installation, which was open during January.
Founded by fitness entrepreneur, Matt Morley, Biofit creates nature-inspired gym designs for hotels, offices and apartment buildings.
The innovative biophilic concept delivers work-out areas that harness the healing power of the natural world to reduce stress levels for users, helping to boost their emotional and physical well-being.
The showroom was designed to allow designers and architects to experience the Biofit concept, and see for themselves how an exercise space can be designed to channel humans' innate connection to nature. Over four weeks, more than 200 people used the space during its temporary placement in Notting Hill, West London.
To reflect the colours of the natural world, the space featured biophilic flooring collections from modular flooring manufacturer Interface, from its Human Nature and Touch & Tones ranges. Zones were created to mimic the look of freshly cut green, grassy verges, and golden, sandy beaches.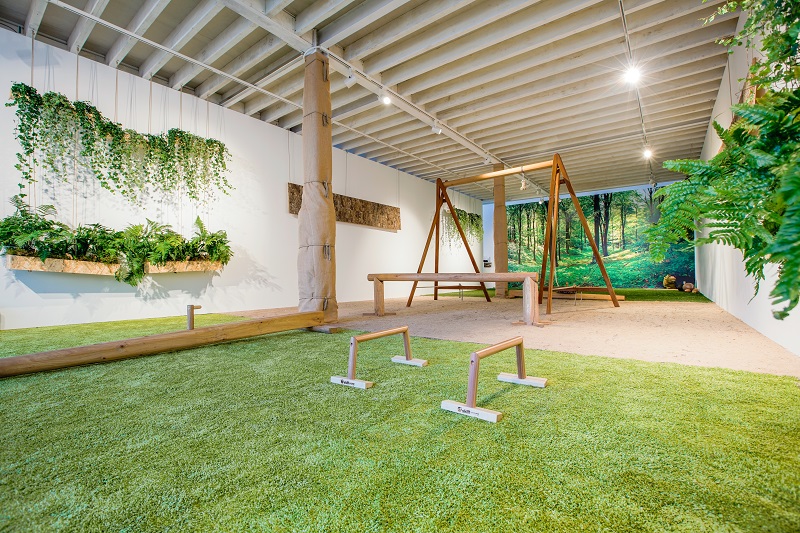 In addition to this interior, the gym offered aromatherapy, acoustic music and air-purifying plants. These, combined with the natural textures of Biofit's wood and rope exercise equipment, helped provide a multi-sensory biophilic experience to engage all five of the senses.
Speaking about the space, Oliver Heath, Biophilic Design Ambassador for Interface, explained: "There is a growing body of research that suggests biophilic design can help create more restorative, recuperative and energising environments.
"Interface's Human Spaces report into workplace design, for example, shows that people who work in environments with natural elements, such as greenery and sunlight, report a 15 per cent higher level of well-being than those in office spaces devoid of nature.
"With this in mind, it's clear that biophilic design has plenty to offer leisure and hospitality facilities, particularly for owners who want to create more restful, calming environments for visitors to relax and unwind in.
"Incorporating this kind of mindful interior design into an exercise space can help harness the benefits of biophilia, engaging both the body and the brain, boosting fitness and well-being."