The global water leisure community recently converged on the Ricoh Arena in Coventry for a bumper 21st anniversary edition of SPATEX 2017.
With an action packed three day Show, including a lively networking 'coming of age' party, it proved a trip well worth taking.
Well known throughout Europe and America as the go-to Show for water leisure, SPATEX attracts all involved in the provision or operation of water leisure facilities including leisure operators, local authorities, leisure centres, hoteliers, health clubs, spa owners, architects, animal hydrotherapists, schools and many more.
"SPATEX has been the UK's leading annual wet leisure Show for 21 years so this year's Show was a celebration of a milestone," says SPATEX Organiser, Michele Bridle, who has herself been part of Exhibition's success story for 17 years.
The Show has traditionally been held from Sunday to Tuesday but in a new departure, the three-day Show opened this year on a Tuesday. It was a move that was warmly welcomed by exhibitors and one that was well received with visitors, who arrived in their droves each day. It is a format that looks likely to stay with mid-week dates for 2018 already announced – Tuesday 30th January to Thursday 1st February.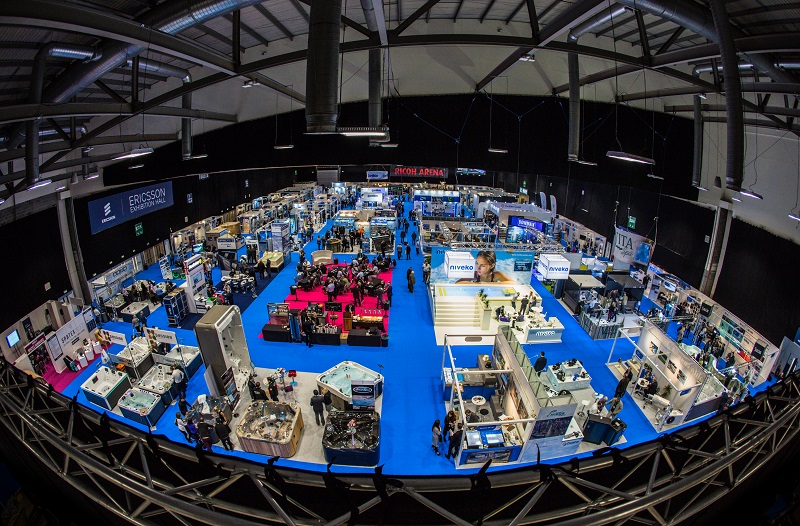 Michele adds: "A mid-week slot brings the Show into line with our fellow European partners. It gave the Exhibition a whole new professional feel and with visitor figures level pretty much pegging with last year's record breaker, when we saw a 28 per cent increase on 2015, it appears to be a formula that works for everyone."
SPATEX featured in excess of a hundred top quality exhibitors drawn from Europe and America's leading manufacturers and suppliers.
A host of new products included the new look Ecstatic Spa from Passion Spas featuring an exciting new levitation bed and romantic wave seat. GMT Spas International showcased an infinity edge spa with built-in channels that act as the balance tank plus two beautiful new round spas from Ezarri's Zen range. Speck Pumpen displayed the BADU Profi-MK Eco VS, the first seal-less pool pump with magnetic coupling instead of a mechanical seal plus a variable PM motor whilst Certikin International introduced the stunning nine person Caldera Utopia spa.
SPATEX 2017 featured the Show's best double seminar and Workshop programme to date, offering free education and training that is unmatched anywhere in the world. This is, in large, part thanks to the redoubtable services of the Institute of Swimming Pool Engineers (ISPE), who each year stage three full days of highly informative workshops offering CPD points and certificates of attendance for all delegates.
All the traditional subjects were comprehensively covered, such as how to stop swimming pools leaking, the latest guidance on water testing and tackling difficult heating and ventilation problems. A new topic that proved highly popular was a talk given by International Personal Injury lawyer, Simon O'Loughlin representing legal firm Irwin Mitchell, giving advice on what to do when things go legal, including pursuing a civil case, proving negligence etc.
ISPE General Secretary, Ross Alcock, reported an outstanding attendance for this year's Workshop programme. With just under 500 delegates over the three days, attendance was over 6% up on 2016 and, an amazing 42% up on the very respectable attendance figures from 2012. All sessions of this year's very varied programme were well-attended and, once again, the evidence shows how the increasing thirst for knowledge and training has helped to make the ISPE Workshop programme an integral part of the SPATEX success story.

Keith Moody of La Paloma Contracts, Spain voices the opinion of many when he says: "Each year I come over from Spain to attend SPATEX, not just for the exhibition and display of new products but also for the seminars and workshops. Living and working as I do in Spain, it is important to keep up to date with all the Industry training, education and Standards and SPATEX is an unparalleled free source."
For the third year running, a parallel seminar programme covered a diverse range of subjects. New for 2017 was the subject of swimming ponds and natural swimming pools. They are growing in popularity both in this country and in Europe but this talk was designed to counteract some of the confusion surrounding them. SPATEX invited board member of the British Association of Natural Swimming Pools, Tim Evans, to give an introductory talk on the subject. The audience was treated to an informative seminar and a slide show of stunning swimming ponds demonstrating their versatility, ease of maintenance and beauty.
With the world's water leisure experts gathered under one roof and SPATEX's 21st anniversary to celebrate, no excuse was needed to throw a SPATEX networking party. Held in the Ricoh Arena's Club House, all delegates were given free cowboy hats, bandanas, free drinks, delicious food and a lot of fun was had by all… as can be seen from the photographs!
Many of SPATEX's visitors also attended the British Pool & Hot Tub Awards gala dinner hosted by BISHTA and SPATA and were treated to an outstanding set of winning pools, spas and swimspas.