Affordable housing took centre stage at The Arena on day two of Ecobuild (8th March) as Ben Derbyshire, RIBA President-Elect, called for a building programme in the outer suburbs of London.
The proposed project would see a significant amount of new homes built over a generation to help solve the ongoing housing crisis and deliver more affordable homes in the capital.
"There is an average of 15 dwellings per hectare, you can hardly see the houses from the trees, we can bring this up to the average and over a generation would yield 700,000 new homes," the RIBA President-Elect explained.
Derbyshire, who is also chair of design consultancy HTA Design, was joined by a panel of experts, including Jules Pipe, Deputy Mayor of Planning, Regeneration and Skills at Greater London Authority, and representatives from HTA Design, Savills, Taylor Wimpey and Transport for London.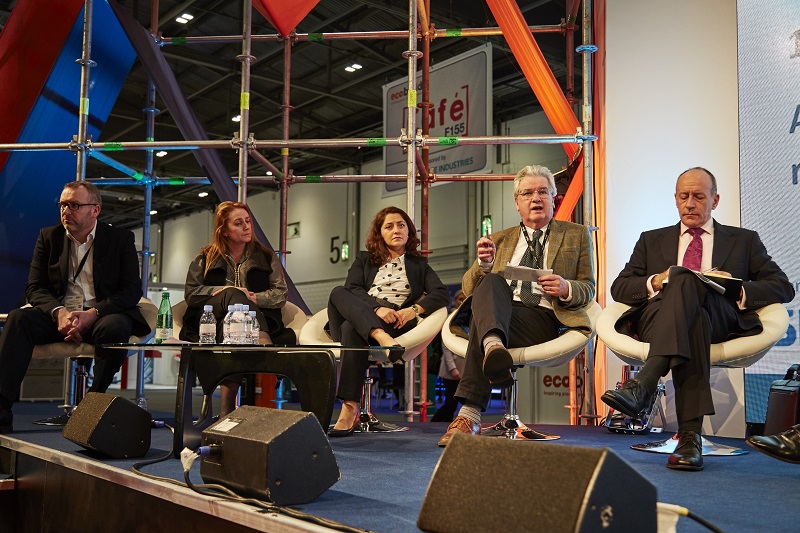 Sustainable workplaces were also high on the agenda at The Arena later in the day, with Julie Hirigoyen, Chief Executive of UK-GBC heading up a panel discussion around the increase in demand for healthy office spaces, emerging technologies, future working patterns and human-centred design. Rounding up the second day, Niall McLaughlin sat down with BBC Arts Broadcaster, Will Gompertz, for an open conversation around all the day's discussions.
Regeneration Drive, the central feature at this year's show, was once again packed with visitors, including those exploring the new Future Materials research innovations. Crowds also gathered at a host of seminar theatres with Green Infrastructure being one of the most popular. Here, speakers from the likes of the Landscape Institute, Arup and AECOM delved into the issues around healthy places and why green infrastructure must be central to decision making.
In addition to the comprehensive conference and seminar programme, the second day of the show was filled with exclusive demonstrations and launches, including live bricklaying by apprentices at Masonry Modern and long queues formed at the Diamondmodule Smart Apartments truck. Ecobuild also presented its Sustainable Stand Awards, in partnership with UK-GBC, to MEDITE SMARTPLY and the Modular & Portable Building Association (MPBA).
"There was a great atmosphere at day two of the show, with a real focus on the most imperative issues facing the industry today, such as the housing crisis and green infrastructure," said Martin Hurn, managing director of Futurebuild, owners of Ecobuild. "Exhibitors have continued to pull out all the stops too showcasing some of the leading innovations, solutions and initiatives in the sector."
The final day of the show tomorrow (Thursday 9th March) is set to be action-packed as the conversation turns to the implications of Brexit for UK construction, what's next for retail and also discussions around whether autonomous electric cars are the future of urban transport. The Arena will be hosted by broadcaster Environment Analyst, Roger Harrabin, who will be joined by experts from M&S, Waitrose, BSI and Federation of Master Builders.