The UK's market leader in luxury vinyl flooring Karndean Designflooring is introducing two new geometric designs inspired by traditional Moroccan and medieval Spanish architecture.
The eye-catching new patterned tiles, Casablanca and Marrakesh, will be joining Karndean's Kaleidoscope range.
These latest introductions have been inspired by the artistic techniques of traditional Moroccan architecture, brought to the Iberian Peninsula during the 8th Century.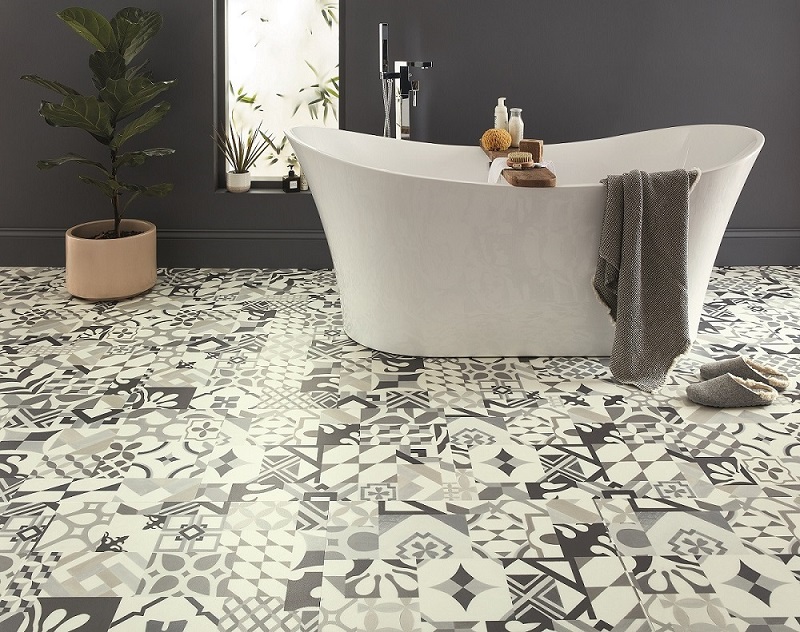 One creative design, available in two subtle yet striking colourways, offers a modern interpretation of these iconic patterns with a non-uniform, patchwork arrangement that incorporates a stylish combination of geometric forms, curves and crests.
Casablanca shows off this quirky design in a stylish monochrome palette of grey shades to create a contemporary statement while Marrakesh uses a mix of natural earthy colour tones for a warmer, more playful look.
Ideal for a wide range of commercial spaces, such as restaurants and bars, hotels or offices, the two new designs bring an eclectic style to contemporary interiors, effortlessly introducing character and interest.
Designers can combine the on-trend grey shades of Casablanca with a complementary shade of wood or stone flooring, together with deep-toned walls and fittings for a modern take on monochromatic design.
Marrakesh looks stunning paired with rich warm wood tones, natural textures and terracotta shades, such as Dulux's colour of the year Spiced Honey. In offices with a resimercial design, the warmth of Marrakesh's earthy colour tones is an ideal choice to create an interior scheme full of rustic charm.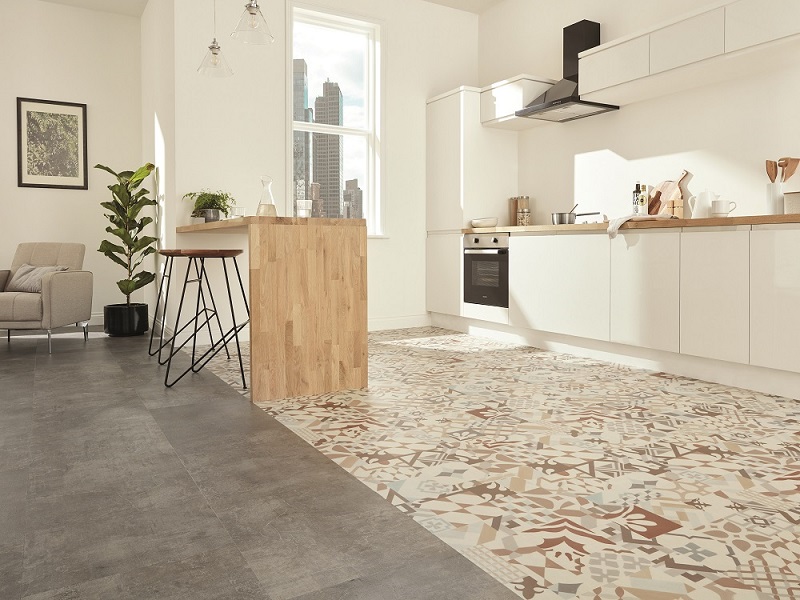 Fleur Carson, commercial sales director at Karndean Designflooring said, "We are delighted to bring these two creative designs to the market. Our designers were inspired by medieval Spanish architecture, such as the Alhambra Palace in Grenada, and have designed a contemporary interpretation of these Moorish patterns, available in two beautiful colourways.
"Ideal for commercial spaces from hotels to pubs and workplaces, Casablanca and Marrakesh offer a statement design that creates depth and character to a design when laid as a walkway to help wayfinding, or as a statement 'rug effect' or zoning within a larger space."
The new designs are offered as large 18 x 24" rectangular tiles, with a micro-bevel, 0.55mm wear layer, 2.5mm thickness and enhanced R10 slip resistance ratings. Casablanca and Marrakesh can be seamlessly laid alongside Opus stone or wood flooring.