A stunning new retirement village which is due to open in the summer of 2019 has benefitted from a series of rooflight solutions from leading manufacturer Xtralite.
Wixams Retirement Village near Bedford, is owned and operated by Extracare the same company who's Lark Hill Retirement Village was featured in the 2018 Channel 4 series of 'Old People's Homes for 4 year old'. The purpose built village will provide 230, one and two bedroom apartments for the over 55's in its six acre green field setting.
"This is an exciting project that we were delighted to work on as it provides alternative lifestyles for those approaching or nearing retirement age whilst encouraging community and social engagement," said Jim Lowther sales director Xtralite.
"Great thought has gone into the design of the building and the inclusion of extensive rooflights ensures areas of the building are flooded with natural light which has been proven to improve wellbeing, especially during the darker months."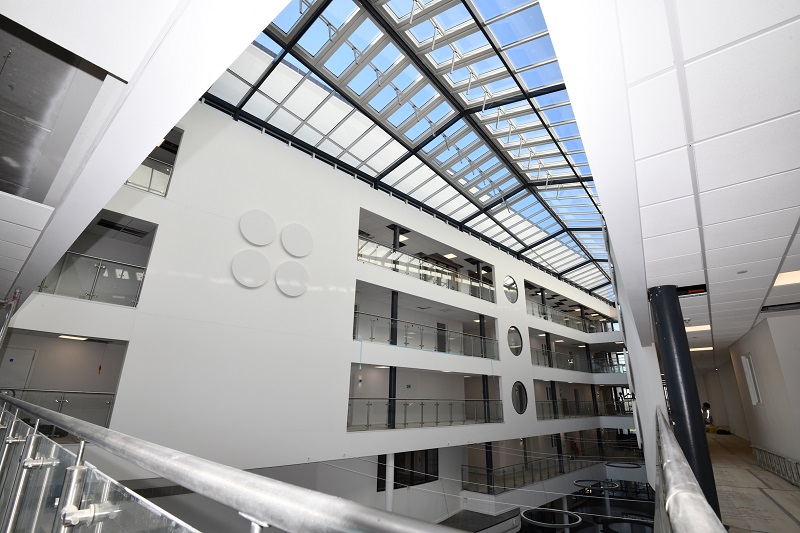 Three sections of the construction project benefitted from Xtralite roofing solutions and its X-Span range of product. One area being the Winter Garden residential area which is a single glazed atrium over a five storey building and includes louvered ventilation.
The Village Centre roof itself benefitted from argon filled double glazed panels and was thermally enhanced to elevate the comfort of users in the central atrium of the village, the location of health spa, bar, gym and other communal facilities. Its design is visually striking creating a focal point merging visual aesthetics and practicality. This area also had smoke vents fitted to meet smoke ventilation building regulations.
Both were sizeable installations measuring over 40m in length and up to 12m in width highlighting how X-Span is entirely versatile and can encompass varieties of style, design and ventilation to fulfil both aesthetic, safety and ventilation demands and legal requirements.
Finally, the self-supporting trapezium styled entrance canopy had single glazed panels from the X-Span range creating a striking visual effect upon arrival at the village.
Mark Jarman Senior Project Manager at Galliford Try commented; "Xtralite has a good reputation in the industry for quality products and reliability and this was important to us when choosing our structural glazing specialist . Pleasingly, the process concerning Xtralite was seamless and we are very pleased with the finished elements of the project."
X-Span remains a popular choice of glazing system. Capable of utilising glass, or lightweight lumira and polycarbonate. In the case of Wixams, glass was used for its clarity and far superior sound attenuation.
"X-Span is a great looking and very practical choice for atria, canopies and entrance ways and was ideally suited to the situations in this particular project," said Jim. "In addition to practicality and the visual aspect it also complies with BS6399 system Part 1 (Code of Practice for dead and imposed loads), Part 2 (Code of Practice for wind loads) and Part 3 (Code of Practice for imposed/snow loads) delivering a premium solution of aesthetics and practicality."