Axiom by Formica Group's Platinum Etchings is a premium décor blending sophisticated sparkles with textured gloss to combine function with a trendy aesthetic.
The appreciable result creates a stylish ambience to any kitchen.
Eva Hoernisch, Group Creative Product Director, comments: "The Platinum Etchings decor series is inspired by its quartz stone counterpart.
"The sparkly inclusions and the sophisticated textured gloss add a trendy touch. It brings the authentic look of deluxe quartz into any kitchen without the maintenance and costs of the real deal."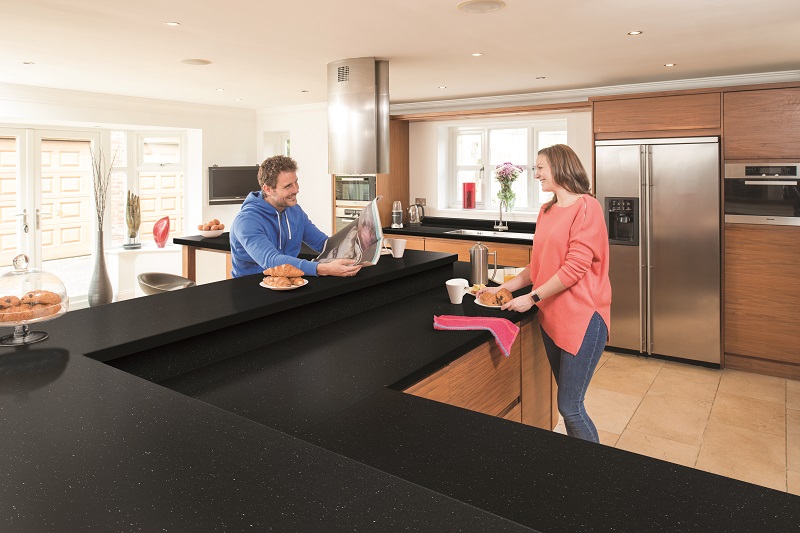 Exclusive to Axiom by Formica Group, the Platinum Etchings range offers a mirror chip effect and is the High Pressure Laminate equivalent of quartz, offering a lightweight alternative.
The Platinum Etchings collection features six possibilities made up of three decors and three solid colours. The printed decors consist of Platinum Cloud, Platinum Cyclone and Platinum Tornado.
The three solid colours offered are White, Graphite and Black. These choices provide options to cover the light to dark spectrum in neutral tones desired in a kitchen, blending in extremely well with timber or powder coated doors.
Worktops are available in 3600x600mm or 4100x600mm (40mm deep) with a 3mm or 6mm profile. Selected decors are available in 3050x600mm. Matching upstands are available in 3000x100mm (20mm deep) with splashbacks in 3030x1210mm (8mm deep) and 3030x600mm.