Polypipe Building Services, the commercial building services specialist, is expanding its product portfolio by introducing a ground-breaking new plastic water supply system for the UK commercial market, MecFlow.
MecFlow is a simple, reliable alternative to traditional water supply systems. It is a multi-layer, WRAS-approved PPR pipe, that has been designed for strength and durability, while holding a fire classification rating of B–s1, d0 making it suitable for multi-occupancy and tall building projects.
What sets MecFlow apart from similar plastic-based systems is the use of innovative CLICKWELD technology that combines all the benefits of an electrofusion weld with clip connections. This technology will provide a new way to design, build and install complex water supply systems, and could save M&E contractors and project managers up to 75% of on-site install time when compared to traditional installation methods.
MecFlow components are supplied to the project site as a complete kit for quick assembly and connected in position. The use of clip connections removes the need for clamping and allows for repositioning before the final welding is applied.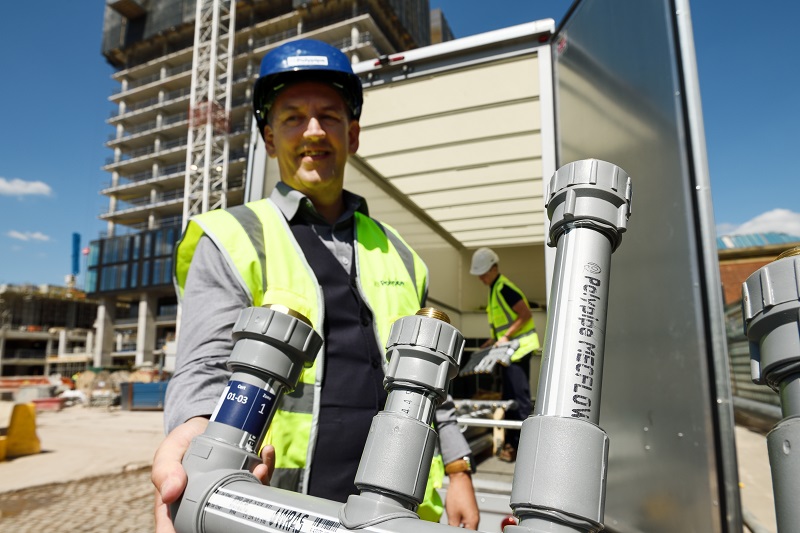 Once the installers are satisfied that the system is correctly configured, an electrofusion weld is then used to secure it in place, ready for use.
The introduction of MecFlow represents a further expansion of the services and solutions from Polypipe Building Services as the business continues to invest in its manufacturing and operational processes.
MecFlow is the first water supply system available through Polypipe Advantage, the end-to-end fabrication service from Polypipe Building Services. Designed to remove the on-site complexity of commercial projects by providing M&E consultants and contractors with technical support from design and manufacturing to delivery, the Polypipe Advantage service has led to a new approach to installing water supply systems.
MecFlow Kits are designed, manufactured and tested in factory-controlled conditions before being delivered to site, to ensure the system is of the highest quality. Delivering Kits, instead of component parts has dramatically reduced waste from packaging and off-cuts and with the kits being delivered to schedule, reduces the need for on-site storage.
Steve Bamforth, Strategic Project Development Director at Polypipe Building Services, said: "Polypipe Building Services is well known for its trusted, high-quality drainage solutions. We've been working hard to leverage our expertise in plastic pipework systems to bring our customers more and MecFlow with CLICKWELD technology represents a leap forward in water supply systems available in the UK commercial market.
"Through Polypipe Advantage we bring more than 40 years of expertise in fabrication services to deliver complete systems that challenge traditional installation and save on-site time and costs. By using this service, the MecFlow Kit reaches site at the point it is needed and because of the CLICKWELD technology, can be installed by one person in a quick and easy way, reducing labour time and costs."
The composition of MecFlow pipe makes it suitable for a range of applications, taking a tried and tested material and providing yet more benefits.
The system's white inner layer incorporates anti-microbial protection, preventing biofilm build-up and a high resistance to rigorous disinfection processes. The central layer also has microfibres incorporated into the polymer structure increasing mechanical strength and reducing the co-efficient of expansion.
This makes MecFlow suitable for the supply of boosted cold water, chilled water, low temperature hot water, and domestic hot water. The system is robust too, and can withstand impact during transport, storage and handling on site.