Insulation specialist Actis has renewed its partnership with LABC for 2019 after its first successful year as a sponsor.
The two organisations have developed an extremely strong relationship over the past 12 months – with Actis presenting CPD sessions at all the LABC's monthly roadshows around the country, attending its regional awards ceremonies and taking part in its annual conference in March as well as working with LABC members on building regulation issues and solutions.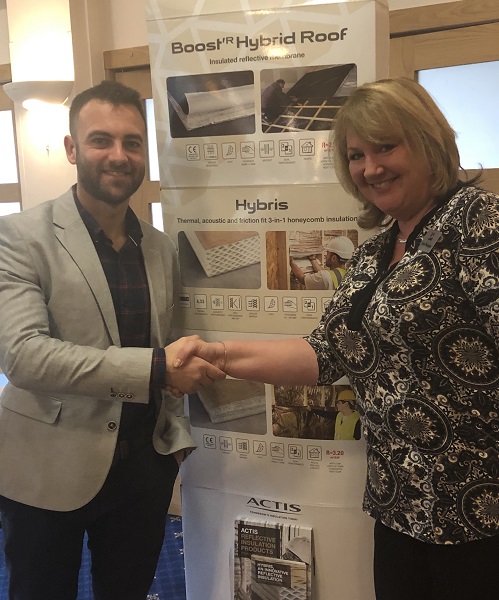 LABC has seen growing take up of its regional roadshows over the past year – with its January and February events oversubscribed.
Actis, whose CE marked products have LABC and LABSS registered details, LABC Warranty and Premier Guarantee approval and are accepted by the NHBC when used in accordance with the certification, will sponsor the LABC for another year.
Actis added a new product to its range during its first year partnering the LABC – an insulating breather membrane designed specifically for roofs. Boost R Hybrid Roof joins its existing stable of Boost R Hybrid Wall, insulation material Hybris and insulating vapour control layer H Control Hybrid.
The fact that all three of these mix and match products have both LABC and LABSS registered details means they can be accepted with confidence by all building control surveyors in more than 300 local authorities in England and Wales and all 32 authorities in Scotland when used according to the certification.
The products have been praised by architects, builders, specifiers and installers for their cleanliness, ease and speed of installation, lack of waste, lightness and ease of transportation as well as their impressive thermal performance.
Their flexibility and therefore ability to bend around corners and squash into gaps means HControl Hybrid and the two Boost'R Hybrids in particular are excellent at eliminating thermal bridging and ensuring air tightness.
Actis has also created two CPD modules on tackling the performance gap, one for England and Wales and one for Scotland, which have proven very popular with building control teams across the British Isles, an online simulator which provides a handy guide to the kind of U-values likely to be achieved by using its products in various scenarios and a raft of how to videos.
Actis Hybrid users, once they have discovered the products, often become evangelical in their determination to use them on future projects.
Actis national specification manager Dan Anson-Hart added: "We're thrilled about our continued partnership with the LABC which provides us with an excellent opportunity to share our technical expertise with colleagues across the construction industry."
LABC head of business development Anna Thompson added: "'We've had an amazing year working with Actis and are thrilled that they have agreed to continue their partnership with us as sponsors for another year."