Forticrete, one of the leading manufacturers of concrete roof tiles, cast stone and architectural masonry solutions for the UK's built environment, is ramping up production of its Ashlar range to support the construction sector and help get Britain building.
The company, part of the Concrete Division within Ibstock plc, has recommenced production at its Thornley factory with improved and innovative manufacturing processes that will enable Forticrete to produce thousands of Ashlar blocks per day.
Kevin Higby, National Sales Manager for Forticrete, said: "With the Government's latest announcement giving the construction sector the green light as part of its phased approach to easing lockdown restrictions, we want to do all we can to support the industry and help get Britain building again, safely.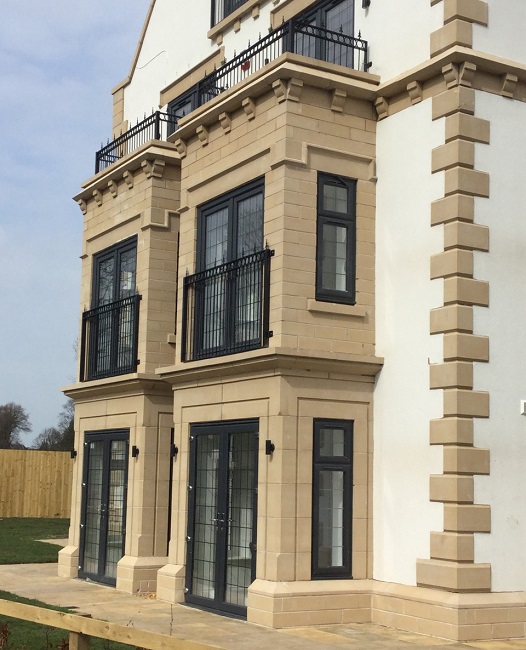 "With this in mind, we've strengthened our production and service capabilities in the cast stone market to ensure we are well placed to not only meet the needs of our housebuilder, merchant and specifier customers, but also grow our presence in this product category."
Ashlar stone has long been the popular choice of natural stone for prestige buildings and the iconic regional preference in places like Bath, York and Chester. However, a common challenge on projects with Ashlar stone is trying to achieve the same regal and classical aesthetic on new build projects at a competitive price, whilst also ensuring there is consistent supply available.
"Whilst we have produced Ashlar cast stone for many years, historically, this has been in small quantities for specification-led projects," continued Kevin.
"By utilising the expertise of the wider Ibstock Concrete division, we have been able to work collaboratively to introduce new processes at Thornley that enable us to produce Ashlar in a much more efficient way. Moving to automated production processes, whilst also retaining our ability to produce handmade Ashlar for specific projects when required, has dramatically increased our volume capabilities. This enables us to manufacture a premium quality product at an extremely competitive price point for the market."
The Ashlar range is a cost-effective alternative to genuine Ashlar stone, making it the ideal choice for replicating the look of natural stone for prestige buildings. Available in a wide range of sizes and colours, including bespoke options, it's manufactured from high grade limestone and sandstone aggregates chosen for their known performance and reliability qualities.