While the timber pavilion being built at London's developing International Quarter in Stratford is certain to attract admiring glances, its sleek design belies the complexity of the challenges being addressed below ground.
The Pavilion sits above a Docklands Light Railway tunnel and requires protection against the ingress of damp and water in a deep basement, while taking account of the complex slab structure needed because of its proximity to the DLR.
When finished the 1,100 sqm building will house the Queen Elizabeth Olympic Park visitor centre, with a café, restaurants on two floors, and a public rooftop terrace with views towards Elizabeth Park and the London Stadium.
Visqueen, the waterproofing and gas protection specialists, and a brand of Berry Global, met the Pavilion's exacting requirements by supplying Visqueen Pre-Applied, Self-Adhesive and High Performance Slab Edge membranes, along with pile cap sealer.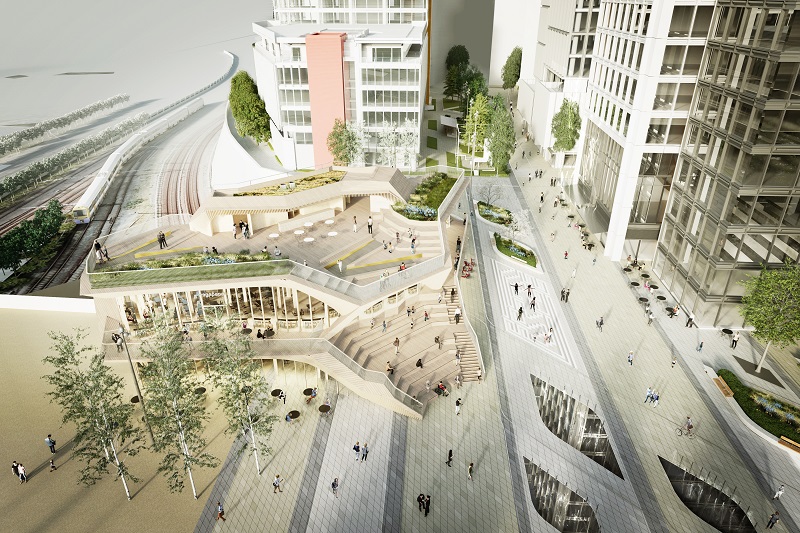 Paul Vincent, Visqueen Technical Support Manager for East London and East Anglia, said: "Due to space restrictions when forming the basement the Pre-Applied Membrane was installed next to the piles, and then the basement walls were formed directly against the membrane.
"This is where a pre-applied solution wins out, as there would have been no room to apply a post-applied one after the basement wall had been cast."
Visqueen Pre-Applied membrane provides a Type A (barrier) protection that alongside waterproof concrete form the two forms of structure waterproofing required to be in accordance with BS 8102. It is also in line with building regulations.
The Visqueen HP Edge membrane was chosen to protect the slab, the challenging shape and sharp edges of which meant a standard DPM would not have been robust enough.
Paul said: "HP Edge's 4,000 gauge makes it tough enough for the application and, being made using Visqueen's copolymer thermoplastics technology, it remains flexible enough to deal with the shape of the slab."
Finally, Visqueen Pile Cap Sealer was specified to provide protection and create a strong cementitious key where the piles joined the slab in the lift pits.
Paul explained: "When reinforcement bars are used to join a pile to a slab in the lift pits, a membrane cannot pass through. This is where a cementitious product painted over the pile and up the bars is the best type of product for the application."
Construction of the Pavilion is scheduled for completion in late 2020, the architect is Acme, with the client being Lendlease and LCR.