In its largest building project in over 100 years, the Victoria and Albert Museum's Exhibition Road Quarter achieves architectural cohesion between museum and street with the help of Alumasc Water Management Solutions (AWMS) and Alumasc Roofing Systems.
In a project that demonstrates expertise across the full building envelope, Alumasc Wade HCE drainage channels and access covers were installed to provide almost invisible yet functional water management, and a bespoke hybrid roofing system installed using Hydrotech and Derbigum waterproof roofing.
Designed by Stirling Prize-winning Architect Amanda Levete and her practice AL_A, the landmark project aimed to "break down the barrier" between the great cultural artery of Exhibition Road and home of over 5000 years' worth of cultural history.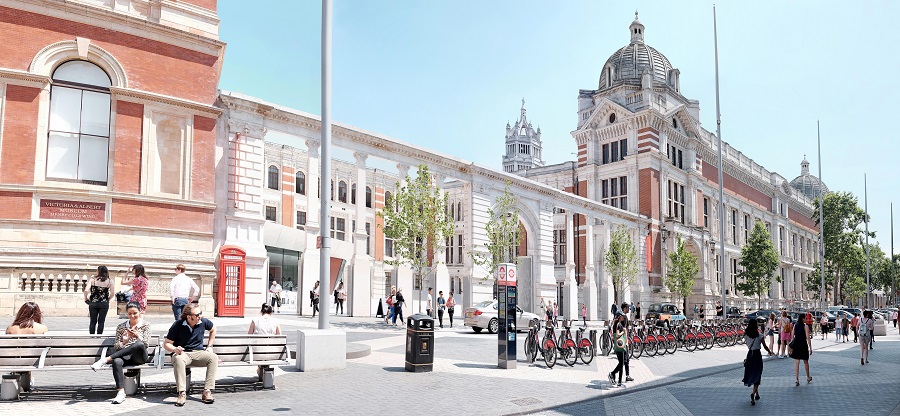 The entire project encompassed the construction of the Sainsbury Gallery, a flexible 1100m2 temporary exhibition space, the Blavatnik Hall, a new entrance into the V&A from Exhibition Road, the Aston Webb Screen, an updated colonnade formed from the original 1909 structure, and the Sackler Courtyard, a key area that strives for unity between the street, the museum, the historical and the modern.
The Sackler Courtyard challenged Alumasc WMS to devise a water management solution that would be able to accommodate the shape of the building design, discreetly hugging the curved exterior wall of the café, and provide access covers that would seamlessly blend with the 11,000 unique, parallelogram shaped porcelain floor tiles. Providing an invisible yet practical solution, bespoke access covers mimicking this shape were designed upon AL_A's specification.
The curved exterior wall of the Sackler Courtyard Café posed a further challenge that was overcome by the custom design of a curved Wade HCE stainless steel drainage channel. Nestled flush against the wall, this provides a discreet direct water flow into a below surface linear drainage system, designed to accommodate large water volumes and withstand heavy foot traffic above. Ideally suited for draining large areas finished with block paving, this channel can be designed to accommodate a range of paving thicknesses (min. 15mm) and flow rate requirements.
David Adams, Area Specification Manager- Building Drainage at Alumasc WMS commented: "The V&A building in itself is considered one of the London cultural quarter's most iconic buildings. This was why it was so important to find a water management solution for the new and updated areas of the site that wouldn't interfere with or detract from its magnificence.
"We were able to offer AL_A high quality, practical solutions to their design specifications that would respect the history of the V&A by remaining as inconspicuous as possible and that would, in this way, help fulfil the project aim of achieving seamless cohesion between the museum and the adjacent public space."