Dilapidated sheltered housing in Bristol has been brought up to 21st century standards and given a quality makeover using Cambrian Slate – a lightweight interlocking slate – with comprehensive technical support from Redland, the UK's leading manufacturer and supplier of pitched roof systems.
Parbrook Court in the Whitchurch area of Bristol is a council-run complex of five interconnected buildings containing 33 flats that was built in the 1970s to provide Supported Housing for Older People (SHOP) with accommodation for both clients and care workers.
Since all these blocks had mansard roofs, with the 1500m2 roofing area effectively doubling the outer wall of the top floors; their appearance deteriorated badly as their fibre cement tiles failed.
"The roofs suffered from rainwater penetration and it was clear that continued patch repairs were not a substantial solution in the long term", remarks Tom Hughes, Project Surveyor with Bristol City Council – Housing Delivery. "We had to find a material that was durable and that looked like natural slate to satisfy planning, so we specified the Redland Cambrian Slate on several counts.
"It is made with recycled Welsh slate so the appearance and material was approved by the planning department. The tile has a life expectancy of at least 60 years, its three-point fixing system guards against wind uplift and it has a system guarantee of 15 years."
That guarantee covers weathertightness, durability and design liability when the tiles are installed with recommended fixings under the Redland SpecMaster service. This is a free-of-charge bespoke roof specification service that covers every detail of the complete roof – including slates, tiles, fittings, accessories, fixings, ventilation, underlay and battens – all provided in an NBS-based format to integrate seamlessly into the building specification.
The service also enables clients to work with a Redland Specification Manager to achieve the optimum performance, as Thomas Hughes points out.
"We had an issue with ventilation that would have meant installing more than 200 ventilated tiles in the roof. This we wanted to avoid because it could have led to maintenance problems in the future, and it also wouldn't have looked right aesthetically. Paul, our Redland Spec Manager helped us to resolve this at the pre-contract stage by specifying vented ridges, over-fascia vents and abutment vents instead."
The contract was then put out to tender, as a complex project in which the main contractor would have to work in phases because the flats were all tenanted and because the failed fibre cement tile also contained asbestos. As a result, the roof had to be enclosed by a temporary roofing system that kept out the elements. Then an asbestos removal contractor had to strip all the tiles safely before the roofing contractor could start work.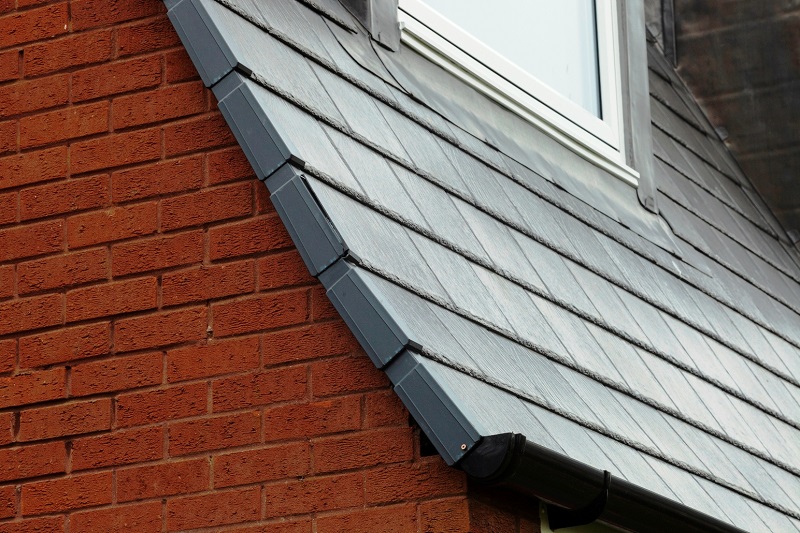 Property services specialist Ian Williams was appointed principal contractor which then appointed the Newport-based roofing specialist Feltfab Facilities to undertake the work. Both companies found the regular visits from the Redland Specification Manager helpful, as Feltfab's Contracts Manager, Chris Flood, says: "We've worked with Paul on other jobs and he's very good because he makes sure that the quality is right as we're doing the work. This reassures our client and gives everyone peace of mind."
And Gary Lott, Contract Manager for Ian Williams, adds: "He went on every roof to check that it was done as per the Redland spec and quickly picked up any detail that wasn't quite right, so we found the service very useful."
Redland Cambrian Slates are designed with a unique three-point fixing, making them secure on even the most exposed sites.
Manufactured to be lightweight with a thin leading edge and surface patterning taken from impressions of real natural slates, and proven on pitches as low as 15°, Redland Cambrian Slates are suitable for a wide range of projects. Three colours are available: Heather, Langdale Green and Slate Grey – with Slate Grey also being available in a pre-weathered finish.