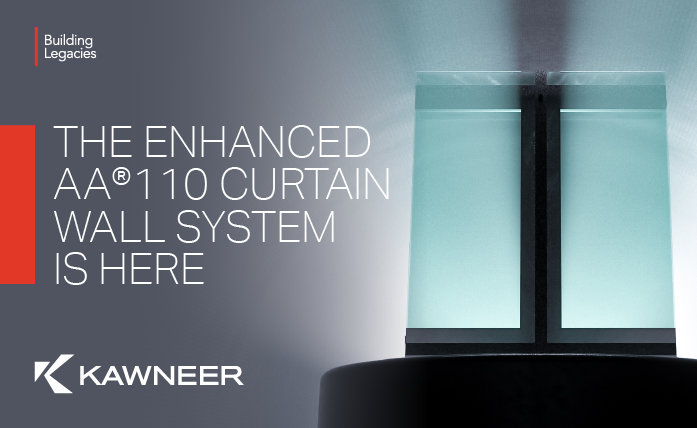 With the ever-increasing market demands for more robust and flexible façade solutions, Kawneer has redesigned it's best-in-class AA®110 Curtain Wall System to feature three innovative enhancements.
Recognised as an industry leading architectural curtain wall system, Kawneer's AA®110, available in both capped and SSG (Structural Silicone Glazed) variants, has been used on many prestigious commercial developments throughout the UK and across Europe. Kawneer has just launched a series of enhancements for the SSG variant, which now offers market leading building movement tolerance, a higher weight capacity and also a concealed vent option.
To help withstand higher tolerances for building movement, a new expansion joint is capable of +/- 5mm in the SSG solution. This complements the capped option, which allows for a +/- 15mm of vertical movement, with both achieving CWCT Sequence B Test accreditation.
Contemporary building design demands larger panes, heavier specifications of glass, unobstructed views and increased natural light. The AA®110 SSG 65mm system's deeper glazing rebate enables the façade to support floor to ceiling glazing, with heavier glass that can withstand high levels of building movement.
Architects demanding a clean flush finish to the exterior can also select a 'Concealed Vent' option, which allows the curtain wall system to be installed with no obvious external indication of the vent location, enhancing the overall aesthetics of the façade. Available in top hung and parallel opening formats, both feature either manual or motorised operation.
Suitable for vertical and slopped applications, the AA®110 SSG Curtain Wall System offers a range of construction methods, including zone-drainage and mullion-drainage. Fully accredited to CWCT Sequence B Testing, the system has been rigorously verified to perform in all UK climatic conditions.
Discover how the new and improved AA®110 SSG system is taking building design to the next level:
Visit our website here to find out more.
Contact us directly at: KawneerAST@arconic.com