FireAngel launches new Specification range featuring Smart RF technology - the connected solution to Fire and CO safety.
FireAngel's brand new Specification range offers a connected yet cost effective system that now features Smart RF technology. It provides greater flexibility to future-proof properties and its tenants, as the range can be adapted and upgraded at a later date by simply fitting a Smart RF radio module into a smoke, heat or carbon monoxide alarm.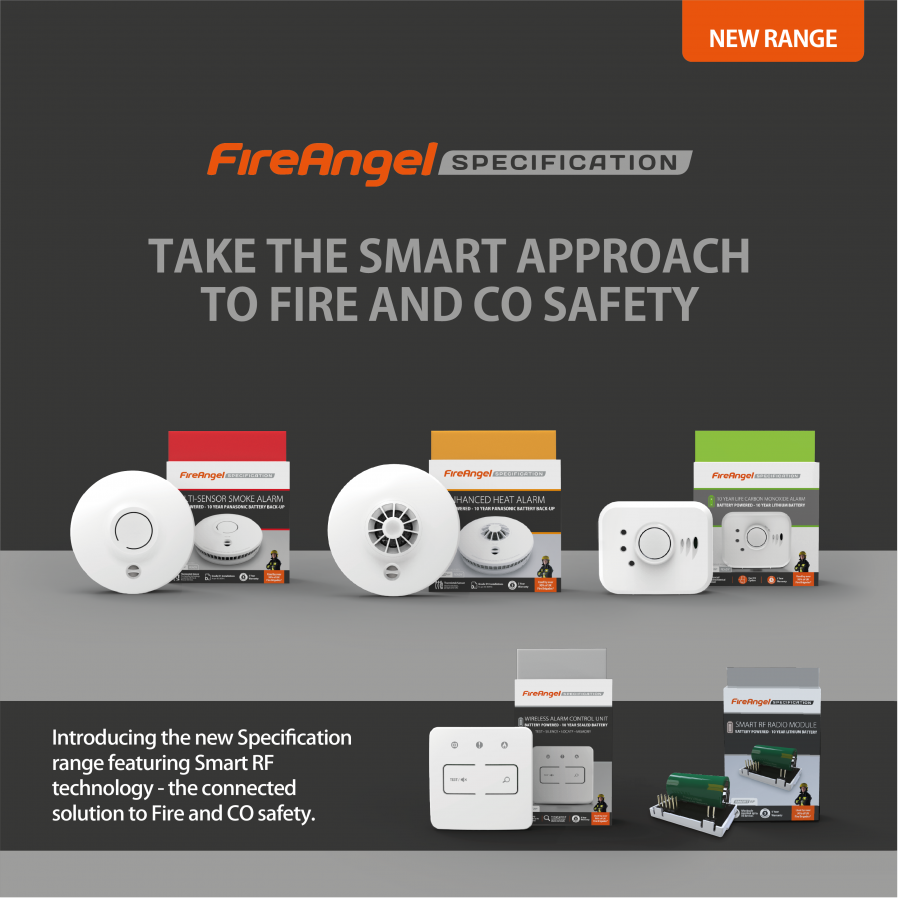 The new mains powered range features Smart RF technology and a 10 year Panasonic lithium battery back-up. It is the only alarm to have a proven carbon footprint measurement, producing on average 95% less carbon dioxide (CO2) than other leading mains powered alarms. It also costs just 60p to run over 10 years.
The Smart RF technology eliminates the time-consuming requirement for channeling or trunking as it provides the wireless interlinking of up to 50 alarms withing one network, in seconds. It also offers the flexibility to upgrade systems by installing a FireAngel Connect Gateway, which enables landlords to access vital information including current status, alarm history, replacement dates and network health through FireAngel Connect.
The FireAngel Connect Gateway uses a unique algorithm and features 'FireAngel Predict' patented technology to identify and highlight dangerous patterns of behaviour that increase fire risk. A network including a FireAngel Connect gateway can provide real-time fire and CO safety notifications via remote monitoring of the alarms for more accurate risk management.
Take fire and carbon monoxide protection one step further by installing FireAngel's brand new Specification range to cost-effectively enhance the safety of individual tenants, whilst also increasing overall property protection. Clever alarms don't need to be complicated.
For more information on the latest FireAngel Specification range featuring Smart RF, contact your local Specification manager www.fireangel.co.uk/specification-manager or visit www.fireangel.co.uk/smart-rf-interlink-technology.