Intratone has hailed the success of Housing Scotland, the Scottish Federation of Housing Association's conference at the Radisson Blu Hotel in Glasgow. In particular, the positive reaction to its cloud-based management system and fob management.
This was the first year that the access control specialist was exhibiting at Housing Scotland. James Hughes, Area Sales Manager, says "If a resident loses a fob, their property manager or housing association is instantly and remotely able to establish the identity of the fob and disable it for future use.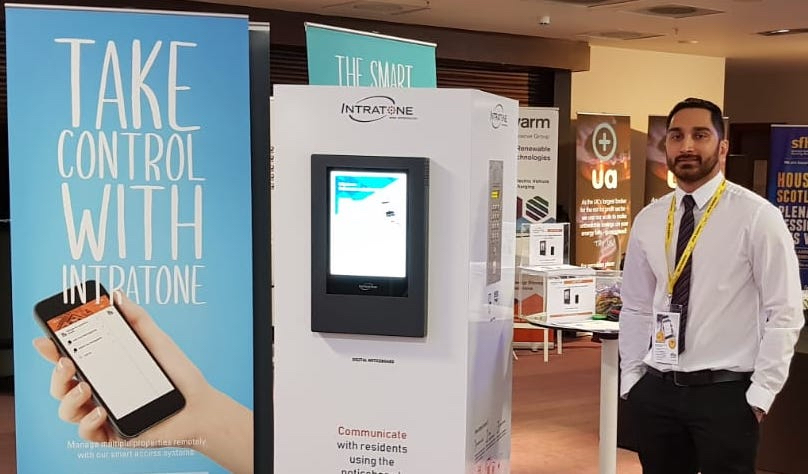 "A new fob can be easily activated on the free and secured INTRATONE cloud-based management site and sent out to that individual. This saves time and money and enhances the security of each property."
Cost-efficiency benefits can also be achieved with Intratone's technology: since there is no handset for its intercoms, maintenance and hardware costs are kept minimal. The requirement for overall systems' maintenance is virtually non-existent as everything is managed on a secure free of charge web platform.
Joining James on the stand was UK Sales Manager, Victor D'Allancé and Inside Sales Manager, Vijay Mehmi who were on hand to discuss Intratone's cloud-based management portal. Because it is cloud-based, changes made to key fobs are almost immediate and can be facilitated from anywhere where there is internet access – whether that's at a PC, laptop or a smartphone on site.
"Our access control and door entry systems are installed across Social Housing, Private Properties and HAs all over the UK and Europe, and prove popular for residents of all ages, but especially the elderly, because they are very easy to use. Installers and customers also like them because they are very easy to install and competitively priced," James adds.