Award-winning smoke ventilation contractor, Fire Design Solutions (FDS), has been appointed to provide its expertise and range of systems for a new £110 million residential development in London's Elephant and Castle district.
Located on Newington Butts in the Elephant and Castle area, the 46-storey tower named Highpoint is being delivered by main contractor Mace and Mace Real-estate for Private Rental Sector (PRS) developer Realstar and social landlord Peabody. The development will create a total of 278 private rental apartments and 179 low cost homes, making it one of the largest developments built specifically as PRS in London.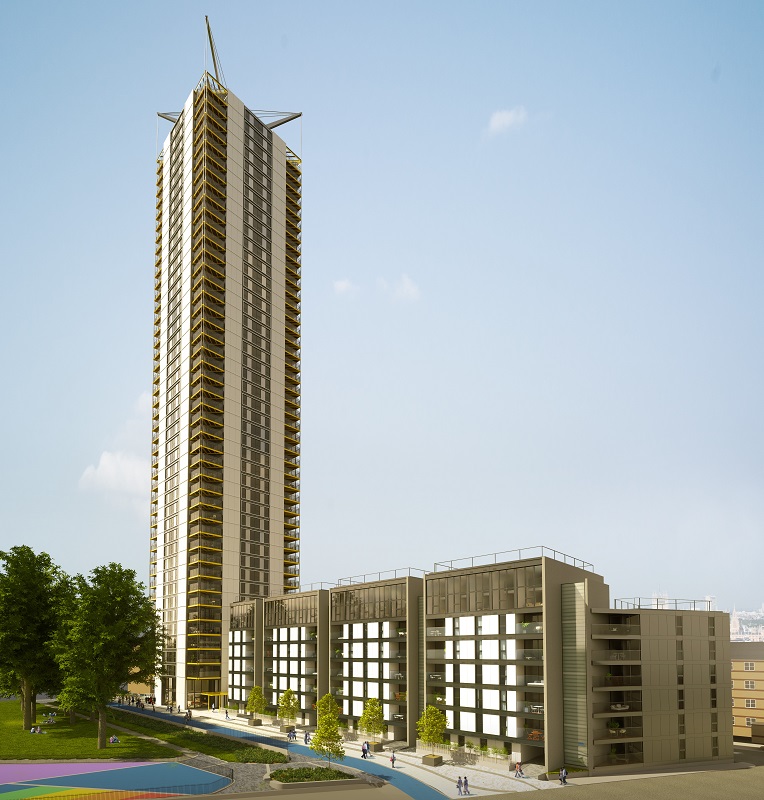 Enlisted by building services engineers Halsion Limited, FDS has been called upon to design, supply and install its smoke ventilation systems for the main block and an additional six storey terrace building, as well as ventilation systems for the development's car park areas to remove pollutants during day-to-day operation and smoke in the event of a fire.
Beginning work on the project in January, FDS utilised Computational Fluid Dynamics (CFD) modelling to simulate the movement of fire and smoke through the building in the event of a fire. Using this method, FDS validated the effectiveness of the mechanical smoke ventilation systems, which its team is currently installing in the development.
Utilising ventilation shafts that incorporate powered fans to serve a building's common corridors and/or lobby areas, mechanical systems are automatically engaged when a fire is detected within the building, quickly and effectively removing smoke in order to provide an escape route for its occupants, while also enabling access for the attending fire services.
Speaking on their appointment to the project, Gerard Sheridan, Chairman at FDS, said: "Having worked with Halsion in the past, we are aware of their exacting standards, and we're pleased to have been selected for such a substantial project. By carrying out Computational Fluid Dynamics (CFD) modelling we were able to demonstrate the efficient operation of the systems which will be installed, satisfying the relevant Building Regulations requirements."
Ian Hanson, Managing Director at Halsion added: "This is a particularly unique project given its scale, making it essential that the company we appointed would be able to not only meet, but exceed expectations.
"By bringing FDS on to the build we were confident that the most appropriate systems would be installed, ensuring effective performance without impacting on the project's total profitability."
Mace's Highpoint development is set for completion in December 2017.