As part of the Hotelympia exhibition in March 2018, Amtico supplied a stunning flooring design to 'The Ultimate Dining Experience'.
The dedicated area was created to showcase the findings from a 2,000 strong survey, which highlighted all aspects of dining, from "pop-ups to bistros, plates to slates, industrial lighting to candlelight, and everything in between."
Taking inspiration from the survey, London-based designers, LXA, brought the experience to life, utilising Amtico's premium Signature collection throughout the area. In the dining zone, Amtico's Kite laying pattern provided a bold and confident design that introduced parallelogram tiles for a distinctive geometry. Plus, by utilising Wenge Wood, Wild Walnut and Dark Walnut, LXA created an ultra-modern style, blending rich ebony tones, vanilla highlights and sleek, dark effects.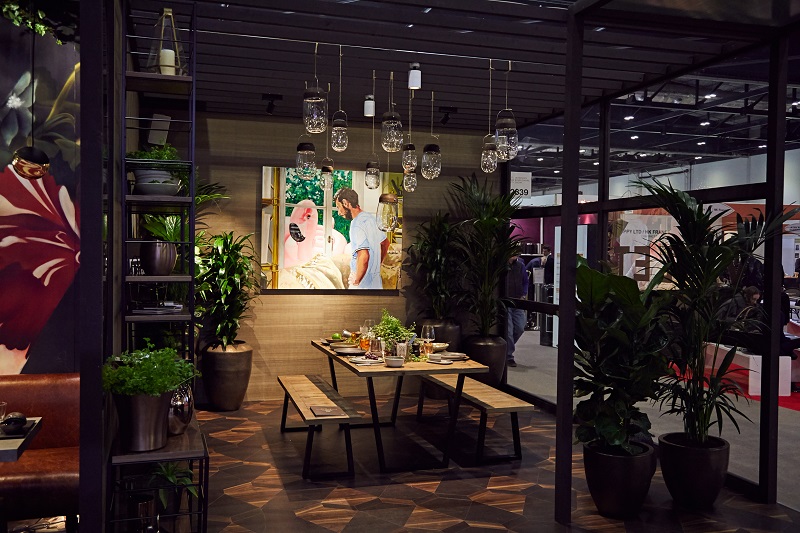 In the reception zone, planks of Dark Walnut were laid in a Stripwood pattern to provide a crisp, clean and warming area.
Commenting on the final design specified for the project, Jonathan Macdonald, Interior Designer at LXA, said: "The survey revealed that diners really liked a bistro experience, so we were very much focussed on this aspect when it came to the flooring. We needed a product that was visually appealing, but could also work through the entire dining area in a repeat pattern. After meeting with Amtico, we ran through the products and chose the Kite laying pattern and some beautiful woods, as they offered the modern and elegant aesthetic we were aiming for.
"We also knew that Amtico LVT is a far more adaptable product than timber, making it easier to lay in areas that have different floor levels. Overall, we were really impressed with how the flooring design complemented the entire scheme, and we're looking forward to specifying Amtico on some upcoming hotel projects."
Hotelympia returned in 2018 with four brand new shows, providing a platform for restaurants, hotels, pubs, casual dining and contract caterers to meet, review and source from the finest suppliers available in the market. LXA was selected as a design partner to create a restaurant concept for the show, drawing on results of a survey by SquareMeal to ascertain what comprises 'The Ultimate Dining Experience'.