The UK's market leader in luxury vinyl flooring, Karndean Designflooring, was selected for the recently renovated Wroxham Bridge American Restaurant in Norwich, creating an exciting and family friendly décor, unique to the area.
Located on the riverside, the family eatery has an interior design scheme and cuisine reminiscent of a classic American diner.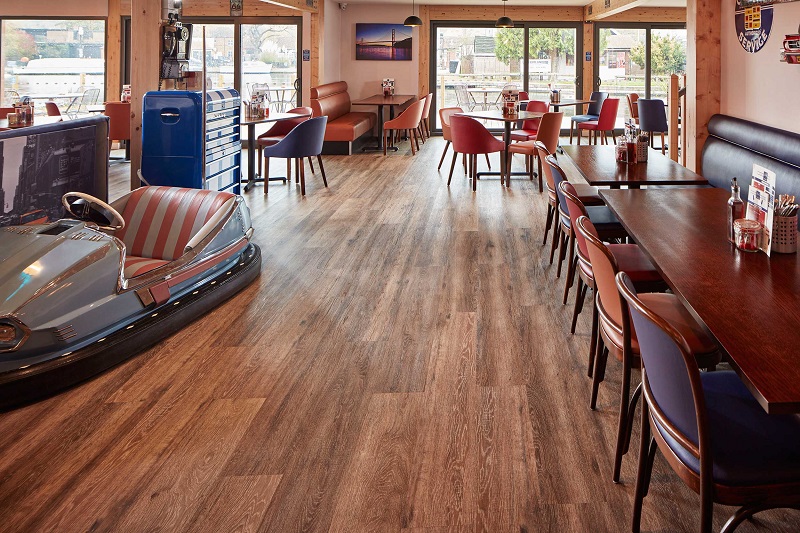 Karndean's Opus Luna and Nero feature in a chequerboard design to complete the monochrome scheme of the upstairs milkshake parlour, and the subtly limed tones of Korlok Baltic Mistral Oak have been fitted throughout the main dining area.
"The flooring design was especially important because we really wanted to capture the quintessential American diner style and Karndean had the ideal products to make this happen," commented Mark Eames, restaurant owner.
He continued: "I envisioned a restaurant that different generations could enjoy together, and the flooring really adds to the overall atmosphere – it transports our guests to a 50s diner like the ones they see in the movies. As well as the look, however, we needed a floor that could stand up to the pressures of a busy environment as we can now accommodate up to 130 guests at any given time, so I'm pleased we chose Karndean."
The new establishment is now unrecognisable as the old building it once was, which had begun to sink into the ground, as the exterior has also been transformed into a modern, striking structure to reflect the impressive, characterful interior.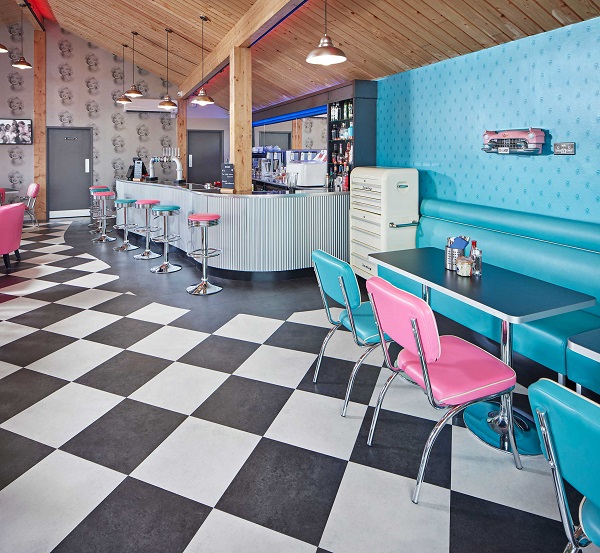 Mark says: "I'm really proud of this restaurant and I want it to stay looking as good as new for as long as we can. We serve breakfast, lunch, afternoon tea and dinner here, so after a long day it's a relief to know it won't take long to clean up the floor, and because of the protective wear layers we'll be able to enjoy it for years to come. Also, when I was told that both the Korlok and Opus designs had R10 slip resistance ratings, I felt reassured, knowing that staff would be moving around tables quickly with food and drink."
The milkshake parlour also features sleek furniture in eye popping blues and pinks, while the main restaurant is complete with old school memorabilia such as a funfair bumper car, fifties movie posters and American muscle car paraphernalia.
Matthew Speck, commercial sales director at Karndean Designflooring, said: "The team behind this diner have considered every detail to ensure an authentic experience and we're thrilled that our flooring plays an integral part. In a fast-paced restaurant with young children and busy waiting staff you need a floor that can withstand the pressure and you also want to avoid slips and trips. With Karndean you can tick these boxes and still have a floor that looks fantastic and completes the overall theme – the Wroxham Bridge American Restaurant is a great example of this."