DELABIE's redesigned Sporting 2 shower panel is ideal for schools and leisure centres. Its simple and stylish design withstands intensive use, yet it is easy to install and maintain. Combining simplicity and efficiency, the Sporting shower panel also has impeccable water saving credentials.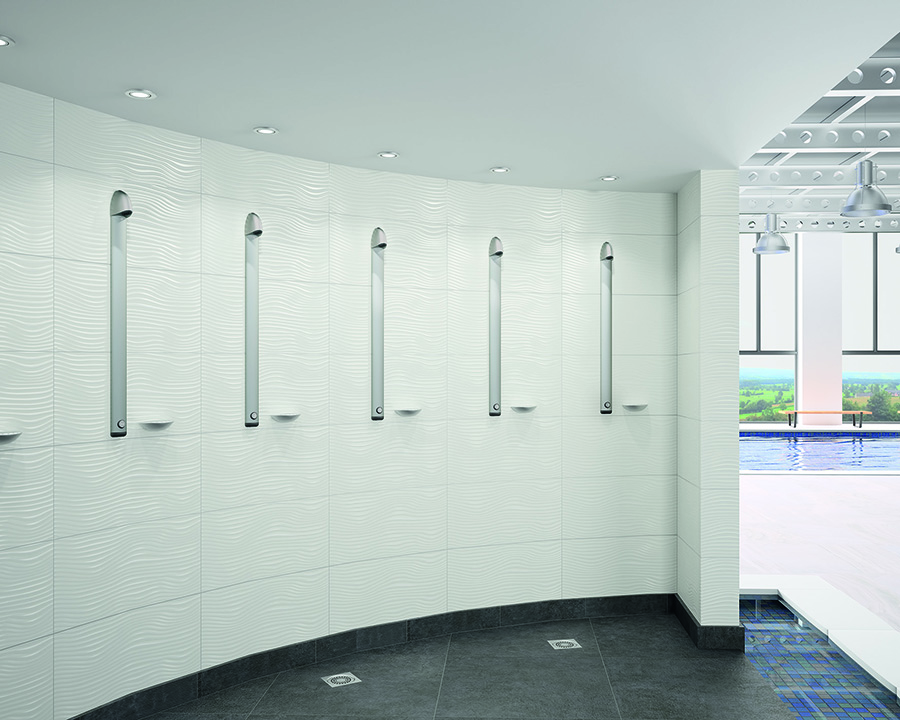 Designed for public use
Made from durable aluminium, the Sporting 2 is designed to withstand the intensive use experienced in public showering facilities. Its shock-resistant mechanism has a self-cleaning, hard-wearing hydraulic mechanism with a lifespan of over 500,000 operations.
The panel's streamlined design with reinforced fixings discourages vandalism and renders the mechanism inaccessible to users. The nozzle is also completely flush with the shower head, reducing the risk of self-harm. Although adjustable, it can be locked in place if necessary.
Modularity and minimal servicing
This slimline panel is highly versatile, ideal for both new build and refurbishment projects. A modular adaptor allows the same panel to connect to a top or back inlet simply by removing the mechanism casing and adjusting the connector's orientation. As a result the Sporting panel is very quick and easy to install.
To simplify servicing, spare parts are standardised to ensure quick and easy replacement. An integrated stopcock allows access to the mechanism and its protective filter without having to remove the panel. Moreover, its spray nozzle and mechanism are made from Hostaform® which reduces the build-up of scale.
Sustainability
In commercial environments, the key to sustainability is to reduce wastage and improve efficiency. The Sporting 2's hydraulic mechanism shuts-off automatically after ~30 seconds, preventing waste through neglect. Efficiency is improved by restricting the flow time to the minimum necessary for wetting and rinsing. A flow rate regulator in the shower head maintains a constant flow rate at 6 litres/minute whatever the water pressure. The net effect is significant water savings without compromising efficiency or comfort.
The Sporting shower panel is ideal for public facilities. Its soft-touch mechanism can be used by children, the elderly or people with reduced mobility. For their comfort, the panel is supplied directly with mixed water which can be pre-blended to a safe temperature. Sporting 2 combines simplicity and efficiency, ideal for the leisure sector and commercial environments.