100m men's breaststroke Olympic Gold medallist, Adam Peaty, opened the £9m Holly Hill Leisure Centre to the huge excitement of Fareham residents who had successfully campaigned for a new community pool in the area. Holly Hill has a 25m swimming pool, learner pool, gymnasium, exercise rooms and dance studio. Knauf AMF provided acoustic solutions to help create a facility fit for future Olympic athletes.
Swimming pools are often very noisy places. The sound reverberates off the hard surfaces back into the humid air. High humidity amplifies sound making the noise level seem even higher. Philip Lyons at Space & Place architects specified Heradesign wall absorbers for the swimming pool hall to reduce and manage the noise level, creating a comfortable sound environment.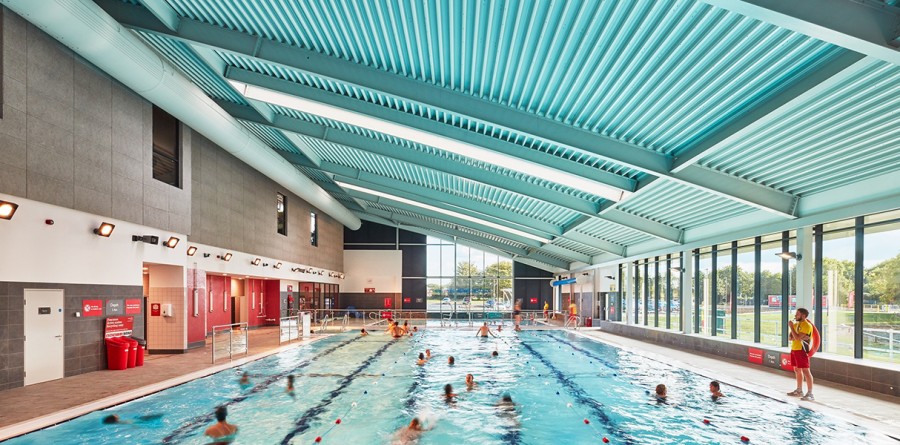 "As a practice, we have specified Heradesign for many different projects and have always been pleased with the results. Knauf AMF offer a solution for every interior which is why they are often our first port of call. We have a very good working relationship with the company, their specifications are clear, with good details, and we are familiar with their products which are cost effective."
Heradesign is fitted along the upper portion of the main wall in the pool hall to provide maximum sound absorption (Class A). Heradesign controls the ambient sound level, reduces reverberation and improves speech intelligibility.
High humidity also posed a challenge when selecting a suitable sound absorbent material. Any material used in a wet environment must be able to withstand fluctuations in air humidity and temperature. Heradesign is 90% humidity resistant which ensures the acoustic panels remain dimensionally stable making it ideal for wet areas. For additional protection from mould and bacteria, Heradesign is manufactured with a specialist resistant coating.
The aesthetics of the pool interior are also important. Philip Lyons was attracted to how well Heradesign could integrate with the pool hall's interior design.
"We know Heradesign appeals to many architects because of the colour options available and its woven texture. But for this project we wanted the panels to blend in and harmonise with the interior. It is great that Heradesign offers this versatility."
Heradesign provides a visual contrast to the pool's many hard surfaces thanks to its organic, textured appearance. Manufactured from sustainable wood-wood, Heradesign adds a tactile quality to the finished interior. Heradesign also offers design flexibility as it can be ordered in any colour and fitted as wall absorbers, ceilings, baffles or rafts, enabling architects to realise even the most creative ideas.
The dance studio is another area of the leisure centre that required sound control to help improve speech intelligibility. Thermatex Alpha ceiling tiles were chosen for their Class A sound absorption, enabling the instructor and dancers to hear one another above the music. The bright white surface of Thermatex Alpha provides 88% light reflection, helping to create a pleasant environment.
Knauf AMF offers a complete acoustic solution for any interior including those that are unusual or have challenging requirements. The team at Knauf AMF are happy to help find a specification that will can turn any ambitious design into a reality. Contact Knauf AMF at info@knaufamf.co.uk or visit www.knaufamf.com.