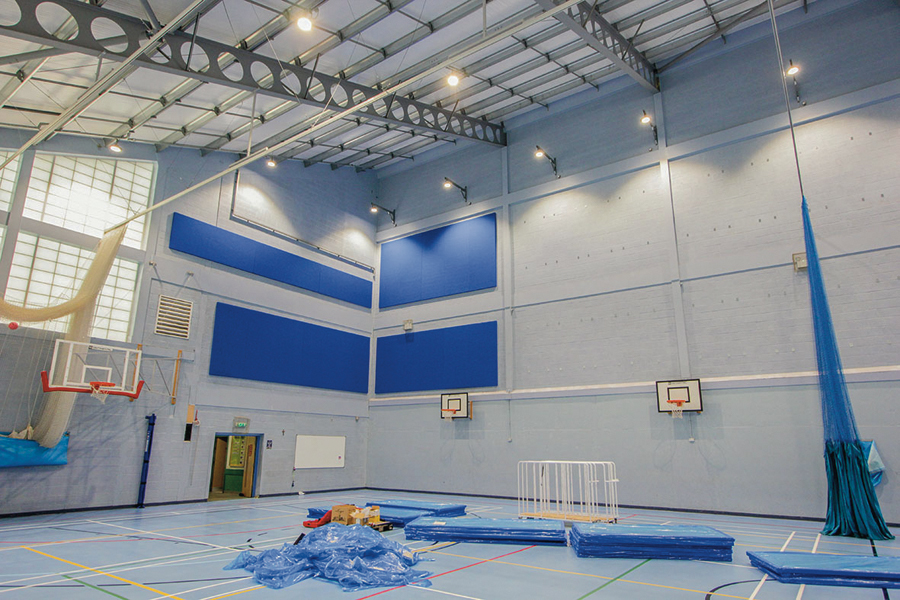 After years of intensive use by the pupils of St Francis Xavier School in Richmond, North Yorkshire, the floor of its sports hall was looking worse for wear. What's more, the problems weren't only at ground level. The very structure of the building meant any sport or exercise was always accompanied by severe acoustic issues.
As specialists in all aspects of sports flooring as well as acoustic suppression, TVS Group was in a unique position to offer the co-educational school a comprehensive solution and one which would be quick and, importantly, economic to achieve.
"TVS offers a whole range of flooring solutions for gyms and sports halls," explained Jason Lewis-Lamb, Sports Flooring Specialist with TVS Group. "However, in this case, where we found the floor structure to be sound, we sought a simpler and more cost-effective solution. The objective was not only to give the sports hall's vinyl flooring a new lease of life, but also to reduce noise reverberation within the building."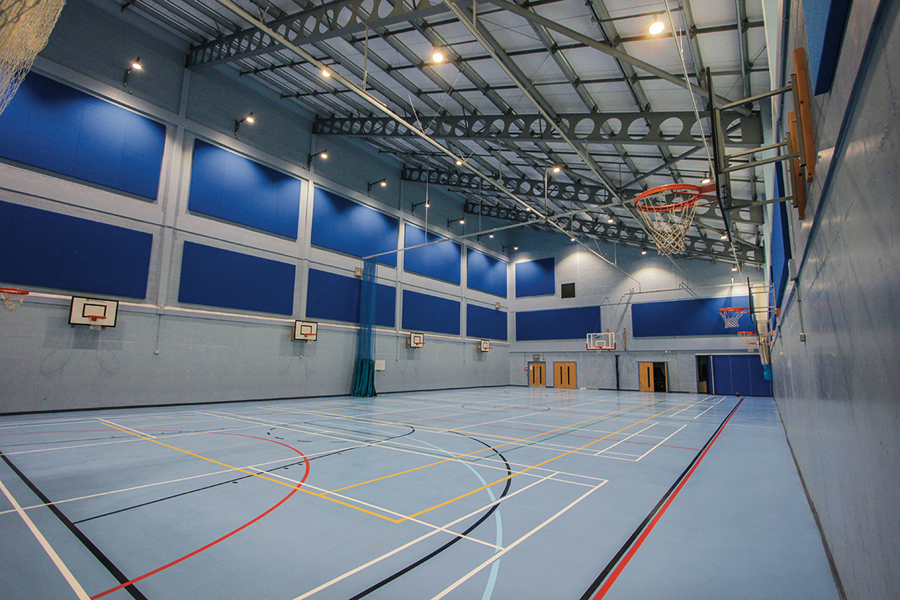 Stage one involved a deep clean of the floor surface by TVS operatives. After removing years of dirt, grime and difficult marks, many caused by the use of incorrect footwear, a surface close to the original finish was achieved. Once complete, all of the existing line markings were overmarked with new 2-part polyurethane sports line paint to ensure better game line clarity and a crisp overall finish.
TVS also supplied 600m2 of new protective carpet matting so that the sports hall flooring would be protected when needed for alternative use such as holding exams or staging exhibitions. The mats are supplied as standard with simple to manoeuvre trolleys so that they can be easily installed, removed and stored.
Finally, after conducting a detailed noise survey, TVS recommended and subsequently supplied and fitted a simple but highly effective acoustic panel solution for the noise issues. Over 260m2 of custom made, brightly coloured TVS Absorb Sports Panels were used across the sports hall, not only significantly reducing the reverberation issues but adding a fresh new look to the building. The panels are not only hard wearing but simple to remove and clean.
"There was no interruption to school schedules as all the work was carried out during a school closure and the client was delighted with the end result, instantly noticing the reduction in reverberated noise that had been achieved," added Jason Lewis-Lamb.
TVS Sports Surfaces & TVS Acoustics: Tel: 01706 260 220
sales@tvs-acoustics.com & sales@tvs-sportssurfaces.com
www.tvs-acoustics.com & www.tvs-sportssurfaces.com