As part of a £13.8m redevelopment project, Brunel University in West London, has installed six made-to-measure Sunsquare flat-roof skylights in its Wilfred Brown Building (a central hub for the College of Engineering, Design and Physical Sciences).
The aim was to bring in much-needed natural light to create a lighter, brighter learning environment for students, whilst also providing exceptional thermal efficiency and keeping energy costs down.
Brunel's core specification challenge was to design a roof that would allow access to plenty of natural light – but with stringent environmental policies weighing heavily on the public sector, efficiency had to be front of mind too. Any glass used on the roof needed to be fully thermally efficient – preventing heat loss in winter months to help keep costs low, yet ensuring that temperatures don't become uncomfortably warm during the summer. Student safety was also a top priority, and the rooflights had to be able to stand the test of time against the extremes of seasonal weather.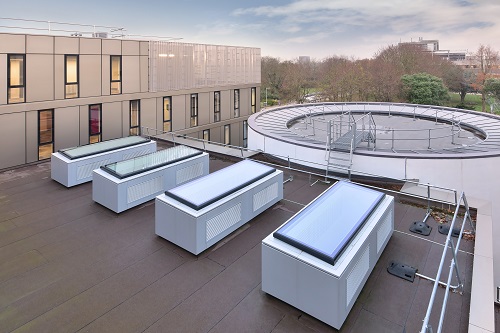 Specifiers at Brunel had worked with Sunsquare before, and knew that their rooflights were the ideal solution for the university's unique requirements: "As a university renowned for delivering exceptional standards of education, it was imperative that Brunel's upgraded facilities reflected the same high standards," explains Mark Lambert, Sales Director at Sunsquare. "One of the main challenges faced by the remodelling team was to create a more welcoming space for visitors, increasing light in poorly lit areas of the building.
"Studies have shown that the benefits of natural light in learning facilities can be significant, providing access to vitamin D than can improve students' mood, focus, productivity and attendance. Rooflights are the perfect solution – as they emit twice as much natural light as an equivalent sized vertical window.
"However, for Brunel, it didn't stop there. The university needed to ensure proper heat-loss protection too. With such a large atrium to heat, a rooflight with a thermally efficient profile was the only way to keep heat loss to a minimum and energy bills as low as possible."
By incorporating six made-to-measure Skyview flat-roof skylights – complete with Sunsquare's unique thermal technology – into the tender drawings from the outset, the architects were able to strike the balance between natural light and thermal efficiency. Designed to fit flush with the project's pre-constructed ventilated upstands, and featuring a fully thermally broken frame, the Skyview rooflights matched thermal performance with the aesthetic appeal Brunel needed.
The 4,710m2 Wilfred Brown Building was fitted with four (1514 x 3514mm) glass pane Skyview rooflights, spanning the full length of the atrium. Two smaller (1000 x 2000mm) Skyview rooflights were installed above darker corners over a neighbouring staircase. All six feature a laminated inner pane to deliver optimum durability and glass safety.
A key driver behind selecting Skyview rooflights was their unrivalled U-values. Sunsquare products are the only flat-roof skylights to feature a fully 'thermally broken' frame, delivering the most efficient profile on the market. This is due, in part, to two separate runs of polyamide included in the frame. These insulating sections act as breaks to thermal conductivity through the aluminium frame, keeping internal and external temperatures completely separate.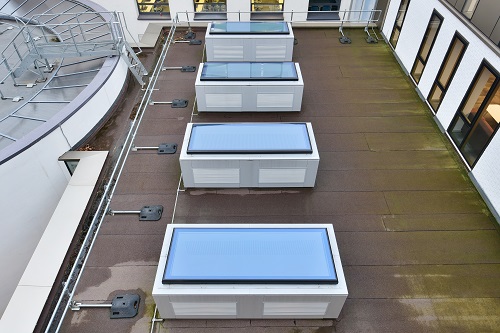 As well as preventing heat loss, these insulating sections also prevent 'cold bridging' – where condensation forms. Over time, if this water is allowed to accumulate, the structure of the frame can become damaged, compromising a rooflight's safety and efficiency. For a university filled with hundreds of students each day, knowing this will never be an issue provides complete peace of mind for both specifiers and university staff alike.
Lambert adds: "Brunel University is a perfect example of how functionality and sustainability can work together within an education facility. Opting for fully thermally broken rooflights meant Brunel's specifying team could guarantee unbeatable U-Value performance, creating a greener, more energy-efficient building – and still deliver a rooflight that can cope with the battering of wind and rain for decades to come."
As well as preventing wasted heat in colder seasons, the architectural team was concerned about the potential impact of such large areas of glazing in the summer months. This is why each rooflight was specified with SN70 Solar controlled glass to avoid excessive heat during sunny periods. This glass reflects up to 60% of the sun's heat rays, providing UV protection without any visible drop in light penetration. This has the added bonus of improving heating and ventilation costs, by helping maintain a comfortable temperature.
"Since the installation, both visitors and students have commented on how striking the entrance to the building now looks," Lambert adds. "But what they don't see is the peace of mind behind the design. As the only rooflight company to hold a BSI (British Standards Institution) Kitemark for safety, we were able to offer unparalleled levels of safety that other rooflight companies simply can't match. We also regularly test each of our components to absolute destruction, so we can guarantee consistently high-standards, time after time."