Murchison House, a building steeped in history since its construction in 1977, has received a significant refurbishment, giving the University of Edinburgh a stunning new purpose-designed venue on its King's Buildings Campus.
Reconfigured to provide light-filled, comfortable spaces for students and staff to work, relax and study, architects Reiach & Hall turned to Knauf AMF Heradesign to create a first-class acoustic solution that would also align with the university's contemporary design brief.
Reiach & Hall specified Knauf AMF Heradesign to deliver a suspended raft system in the café and breakout areas. Cut to create a series of triangular rafts, the 80m2 floating ceiling solution offered the illusion of height above the system and provided excellent acoustic performance.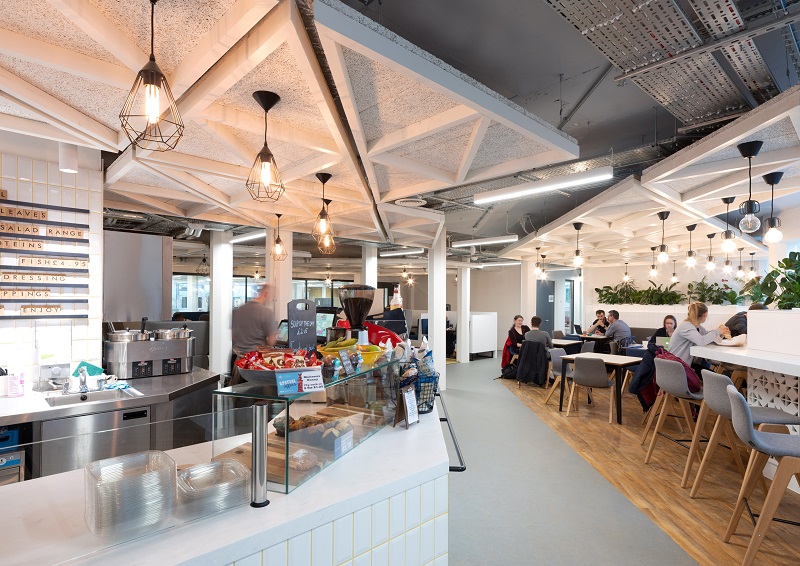 Meanwhile in the study areas, 100m2 of Heradesign wall absorbers were installed throughout the study zones continuing the geometric theme.
Speaking about the complex design, Wynne McLeish of Reiach & Hall comments: "Working within the constraints of an existing 1970s building with low ceilings and limited wall space, we looked to design a suspended raft system. This not only allowed us to achieve the required acoustic rating but also detract focus away from the new exposed services.
"The triangular forms were used to echo the unusual geometric plan of the building and the colour white to reflect light into the space.
"The versatility and texture of the Knauf AMF Heradesign allowed us to create a fun, bespoke feature for the café, which was light enough to be quickly installed by the contractor."
For Murchison House, the use of Heradesign Fine offers a unique design feature that pushes the boundaries of design. Its versatility is becoming increasingly recognised amongst specifiers.