AVDanzer has installed a specialist assessment centre for Lewisham Abbey Manor College on behalf of the London Borough of Lewisham using its new building regulation compliant system.
All pupils referred to Abbey Manor have been excluded from mainstream education and the centre needs to be separate from the main school building while new pupils are assessed, before being integrated into the main school community.
The team adapted its steel, anti-vandal OpenSpace product, to meet the school's requirement for a particularly robust building. The challenge was to adapt the product, which is normally deployed for site accommodation purposes, so that it met current building regulations. The building regulation compliant assessment centre has a 2-bay classroom, a disabled toilet with external access plus a meeting and assessment room.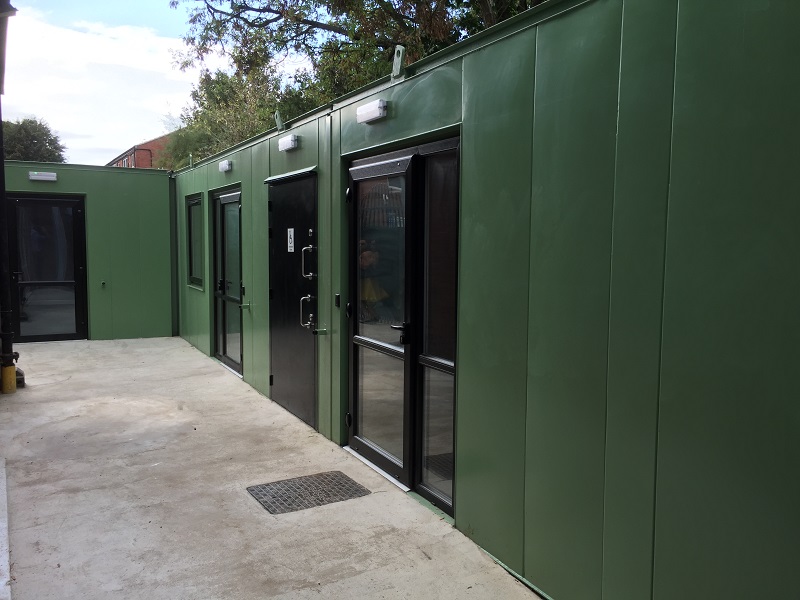 The design team worked to overcome the issues associated with adapting a steel shell design - such as negating condensation, meeting U value requirements and ensuring that the building would successfully pass air permeability tests which were carried out on site.
Commenting on the project AVDanzer's Dan Holloway said: "This is the first time our OpenSpace product has been designed to meet building regulations. It enables us to now provide this popular product range as a solution to customers who need strength, durability, security and flexibility but in a fully compliant system. This project gave us the perfect opportunity to develop our system which can be used in a wide variety of educational establishments."
He added: "This was a very fast turnaround from order through production to delivery and we also had significant on-site space restrictions as is often the way in city centre locations."
AVDanzer's OpenSpace product is one of the most popular systems on the market for the education sector as it can be delivered quickly, is cost-effective and provides a modern, secure and robust learning space to meet the UK's rapidly growing school populations.
Abbey Manor College is an age 11-19 Pupil Referral Unit based in South London. Students are drawn from a borough which reflects a diverse urban community with more than 170 languages spoken.