Marley's JB Western Red Cedar Shingles have been specified to clad a new extension constructed to enlarge Flitch Green Academy in Essex.
The extension has added three additional classrooms and support spaces at the primary school as it accommodates a significant increase in pupil numbers on site.
A key requirement for the design and specification process was to ensure the new building would blend in seamlessly with the existing school structure.
The specification of the Red Cedar Shingles as the roofing solution meant the colour selected would be sympathetic to the current shingle use on site as well as the surrounding buildings, while also providing a clean, refreshing and modern finish.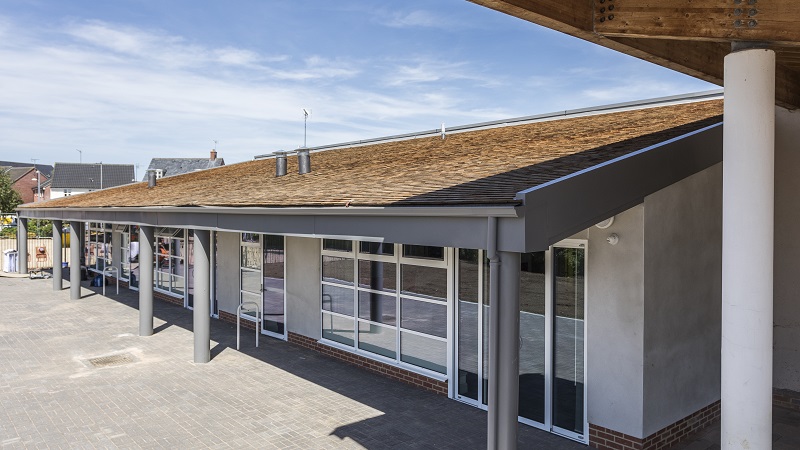 Alex Larn, Commercial Director for main contractor, Beardwell, says: "We needed to match the overall look seen on the existing building as far as the roofing was concerned.
"Having worked with shingles on other smaller-sized projects we knew it would provide a perfect answer at Flitch Green. We tied the new extension into the existing roof structure and the Red Cedar Shingles were then used to cover approximately 300m2 to envelope the building.
"On completion, the shingles provide an aesthetically pleasing finish that works very well with the existing buildings and within the overall location. Construction was straightforward and the product is easy to work with. We expect the materials to offer great performance characteristics in the years ahead and they have been an ideal solution for Flitch Green Academy as the school welcomes increasing numbers of children."
Daniel Redfern, Marketing Executive – Residential Roofing at Marley, adds: "Our JB Western Red Cedar Shingles are a renewable and sustainable roofing and cladding solution, with one of the lowest carbon footprints of any widely used building product.
"They also offer a high degree of thermal insulation and are an ideal match for a project like this where it is crucial the finished site blends seamlessly into its surroundings."