Glasgow Clyde College is one of the largest further education institutions in Scotland. Having undergone a rebranding process in 2009 to appeal to a wider audience, the washrooms located on the Cardonald Campus are the latest part of the College to get an updated look.
The refurbishment of the campus washrooms is part of the College's continued commitment to provide students with modern facilities.
The installation of Rearo's Impact Toilet Cubicles and Integrated Plumbing Systems (IPS), alongside vanity units, was completed by Elmwood Projects Ltd. and specifies Formica laminate.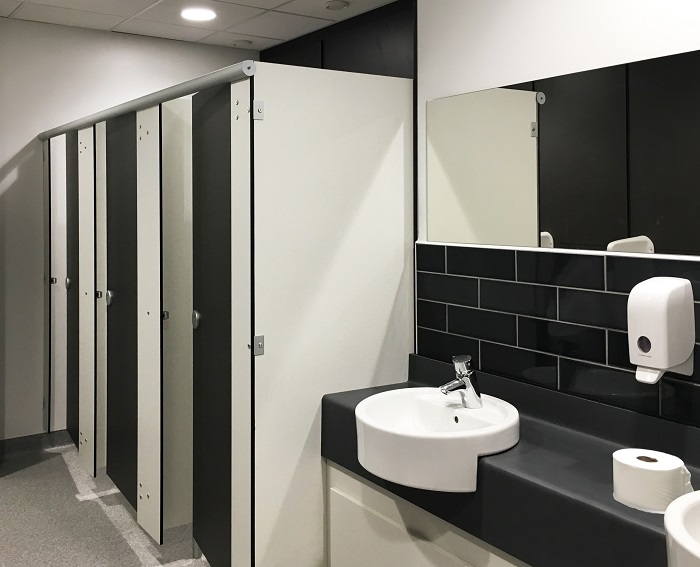 The new washroom facilities have been installed to all ten floors of the college, including the café and the first aid room, catering for the campus's 12,000 full-time and part-time students.
With an emphasis on elegant design and durability, Formica laminate in Paloma Polar was applied to the washroom's partitions and pilasters. Complementing the whites are the grey tones of Formica Group's Radon and Graphite Twill, which were used for the vanity top and IPS respectively.
Washrooms in high foot traffic environments need to be robust, strong and hygienic. The durable surfacing provided by Formica laminate lowers maintenance costs while the inert properties of the material greatly diminishes the spread of potential harmful germs and bacteria. Furthermore, cleanly surfaces that do not promote microbial growth can help to reduce illness or absenteeism.
Complementing the washroom design and cleanliness afforded by Formica laminate is the hidden and discrete IPS which prevents bacteria from gathering in those awkward to clean areas.