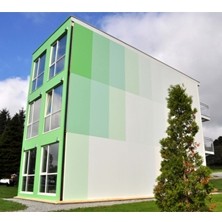 Accoya® and Medite® Tricoya® cladding used in residential construction innovation
Two of Norway's young entrepreneurs have formed an innovative response to the demand for student accommodation in Norway, by transforming shipping containers into residential flats framed with Accoya wood and clad with Medite Tricoya MDF.
MyBox is a pre-fabricated box constructed with low-maintenance Accoya and Medite Tricoya modified wood products, which protect the residential units from the harsh effects of the external environment and together create an excellent U-value rating and thermal performance. The accommodation solution is assembled in a matter of days, and once constructed, is approved as a permanent building.
Magnus Øgård Meisal and Kristoffer Sørstrønen fashioned the idea. Magnus said, "We wanted to build homes in a simplified way, similar to the way you might build with Lego, and shipping containers seems the obvious starting point. Accoya and Medite Tricoya are fantastic, high performance products to construct and clad the containers with, offering 50 years warranty for durability and stability which is industry leading. The impeccable environmental credentials and natural aesthetics of both products add to their credibility, making them the perfect and preferred materials to use in construction."
Accoya and Medite Tricoya are two of the most advanced wood products on the market today, using Accsys Technologies' proprietary acetylation technology to deliver outstanding levels of performance, stability, durability. This results in a non-toxic, attractive and cost-effective wood which matches or exceeds the properties of tropical hardwood.
Bryan Crennell, director of sales and marketing at Accsys Technologies, said: "Being innovative construction solutions themselves, Accoya and Medite Tricoya are ideal for use in creative projects such as MyBox. It is fantastic to see world-leading wood products being used in this unique way, and we hope Magnus and Kristoffer develop more inspirational innovations such as MyBox in the future."
The Accoya wood frame and Medite Tricoya cladding panels for MyBox were supplied by Profftre, official distributor of Accoya and Medite Tricoya in Norway. For more information about Accoya and distributor details please visit www.accoya.com. For information about Medite Tricoya please visit www.meditetricoya.com.