Projects focusing on embodied carbon have been recognized for the first time in a separate category of the CIBSE Building Performance Awards 2022, whose shortlist has just been announced.
The Building Performance Awards recognise and reward the proven performance of buildings in use rather than their design intent.
Shortlisted entries across all 12 awards categories showcase the highest engineering achievements in delivering exceptional building performance across the construction and property industry.
Embodied carbon is increasingly acknowledged as a major contributor to carbon emissions and must be addressed alongside operational carbon. The CIBSE Embodied Carbon award recognises exceptional contributions to understanding and reducing embodied carbon in building services.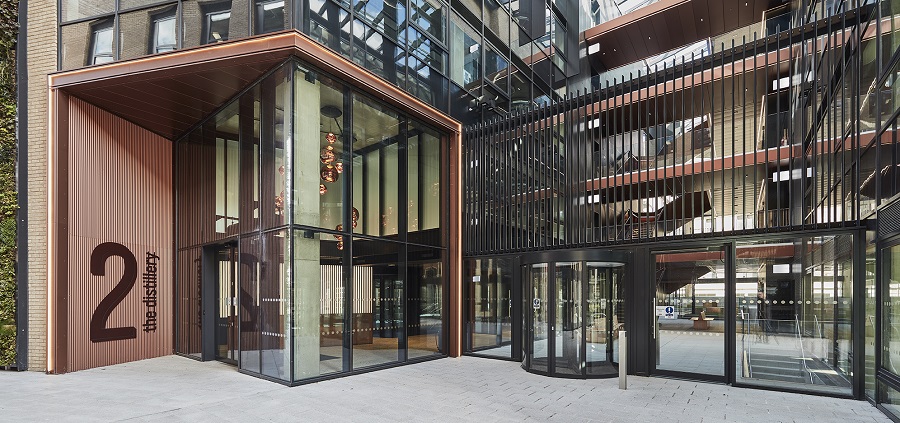 Three outstanding entries made the category shortlist:
Buro Happold's whole life carbon assessment for the Leonardo Royal Hotel and The Distillery office (pictured), part of Glassfields mixed use development in Bristol
Michael Lonsdale Group's Embodied Carbon Questionnaire, developed to glean embodied carbon data for products that do not have an Environmental Product Declaration; and
NG Bailey's carbon calculation tool for its offsite manufacturing facility, which enables embodied carbon of offsite assembly to be compared to traditional construction methods
The winner of the embodied carbon category will be announced along with the winners from the other 11 other categories at a glittering awards ceremony on Thursday, 24 February 2022, at the Park Plaza, Westminster Bridge, London.
The highlight of the evening will be the crowning of the Building Performance Champion from the 12 category winners. To join in the celebration, go to CIBSE.org/BPA
The CIBSE BPA 2022 shortlist in full:
Headline Sponsor Tamlite Lighting
Building Performance Consultancy (up to 50 employees)
Sponsored by Mitsubishi Electric
• EECO2
• FairHeat
• Greengauge
• grfn
• Lawler Consulting
• XCO2
Building Performance Consultancy (51–300 employees)
Sponsored by Airflow
• Max Fordham
Building Performance Consultancy (over 300 employees)
Sponsored by ABB
• AECOM
• Buro Happold
• Elementa Consulting
Collaboration
Sponsored by Lochinvar
• Aviva UK & Ireland Portfolio – Aviva
• BBC Central Square – AECOM
• Belgrave House – BNP Paribas Real Estate
• Echo Court – FairHeat
• Southern House – Arup
Facilities Management
Sponsored by Gratte Brothers
• Aviva UK & Ireland Portfolio – Aviva
• Cityplaza – Swire Properties
• Legal & General Investment Management TBPE – Hoare Lea
• KAUST New Housing Project (KNHP) - Oasis Buildings – King Abdullah University of Science and Technology
• Southern House – Arup
Learning and Development
Sponsored by SfS, a division of Exyte Hargreaves
• BEEP Student Camp - Indo-Swiss Building Energy Efficiency Project (Indo-Swiss BEEP), Bureau of Energy Efficiency, Govt. of India, Swiss Agency for Development & Cooperation
• BetaTalk – NJV BetaTeach/BetaTalk
• Light4Health – University of Wolverhampton
• Low Energy Cooling and Ventilation for Indian Residences (LECaVIR) – CEPT Research and Development Foundation, CEPT University
• Ventilation Hygiene Cleaning Training – Overclean
Product or Innovation – Thermal Comfort
• BMSN1 bGrid Multi Sensor Node – bGrid
• Closing the Performance Gap – Knauf Insulation & Knauf Energy Solutions
• 'DB Series' Underfloor Heating Manifold – Giacomini UK
• ROCKLAP Pipe Supports – ROCKWOOL UK
Product or Innovation – Wellbeing
Sponsored by Tamlite Lighting
• Eco-Duo – Water Kinetics
• IEQ Dashboard – Demand Logic
Product or Innovation – Air Quality
• Deltri + – Systemair
• Invisivent – Renson
• UV-C Upper Air Disinfection Luminaires – Signify
Project of the Year
Sponsored by Crane
• Active Office – SPECIFIC, Swansea University and Naked Energy
• Clatterbridge Cancer Centre – AECOM
• Jewish Care Wohl Court, Hendon – Max Fordham
• McDonald's Global Flagship - Buena Vista - Net Zero Energy – Cyclone Energy Group
• St John's College, Oxford, Library and Study Centre – Max Fordham
Building Performance Engineer of the Year
Sponsored by Ideal Heating
• Mike Burton, Director – AECOM
• Catherine McCarthy, Senior Mechanical Engineer – Buro Happold
CIBSE Embodied Carbon Award
• Buro Happold & Royal London Asset Management
• Michael J Lonsdale
• NG Bailey