The Wood Awards 2021 shortlist is now on display at The Building Centre in London, from until 3rd December.
The exhibition is part of World of Wood (WOW) Festival, a six-week celebration of global timber and global forests that demonstrates the benefits forest supply chains bring to the natural and urban environment. It seeks to build on the increased interest in climate change policy, highlight the vital role which forest supply chains play in reducing carbon emissions, and showcase the innovation and design potential of timber.
Nineteen structures and eleven product designs have been nominated for the Wood Awards 2021. This year's shortlist includes designs by Mæ, Jonathan Tuckey Design, Penoyre & Prasad, Gareth Neal, Daniel Schofield, Jasper Morrison, Pearson Lloyd and Ercol.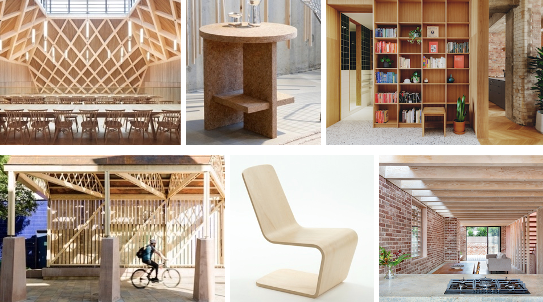 Established in 1971, the Wood Awards is the UK's premier competition for excellence in architecture and product design in wood. The competition is free to enter and aims to encourage and promote outstanding timber design, craftsmanship and installation. The independent judging panel visits all the shortlisted projects in person, making this a uniquely rigorous competition. The Awards are split into two main categories: Buildings and Furniture & Product. The winners of this year's competition will be announced at a ceremony on 25th November.

WOW Festival has been devised and coordinated by the UK Timber Trade Federation and CEI-Bois, representing European woodworking industries; the team has created an alliance of over 40 separate associations, organisations, businesses and campaigns representing global forest growth and development, engineered mass timber and wood-based products from Indonesia to Ghana, Australia, North America and China.

Exciting digital features of the WOW Festival include a mobile augmented reality app, which will be launched for the start of the festival. The exhibition is supported by a series of online, physical and hybrid events which will include keynote speeches, debates, webinars, and report launches calling for policy change, broadcast from the Building
Centre around the world.
The London opening of the WOW Festival at The Building Centre will also be the first chance to receive a physical copy of the two manifestos being launched at COP26 the following week. These include:

• Growing Our Low-Carbon Future: Time for Timber, which focuses on European and North American forestry and timber industries, and how we can use wood to transform our built environment into a form of carbon capture and storage.

• Global Forests Need Global Governance, which sets out a new vision for tropical forests, outlaying how we can embed the principles of sustainable forest management, protect biodiversity, and uplift indigenous and forest-based communities.

Further details about the Wood Awards 2021 shortlist can be found at www.woodawards2021.online.

More information about WOW Festival can be found at www.worldofwoodfestival.org.