Digital Twin technology is expected to lead the way in transforming our cities, savings billions in running costs, and assisting towards net-zero targets.
A new report by global tech market advisory firm ABI Research, says the cost benefits alone could be worth over £200bn by 2030 through using Digital Twins for more efficient urban planning.
"Digital Twins will become the ultimate tool for city governments to design, plan and manage their connected infrastructure and assets in an efficient and cost-effective way," said Dominique Bonte, Vice President End Markets at ABI Research.
"Cost savings can be obtained in key areas, such as energy and utilities, transportation, safety and security, and infrastructure (roads/buildings). However, urban digital twins also offer many other advantages in terms of supporting and improving sustainability, circularity, decarbonization, and the overall quality of urban living."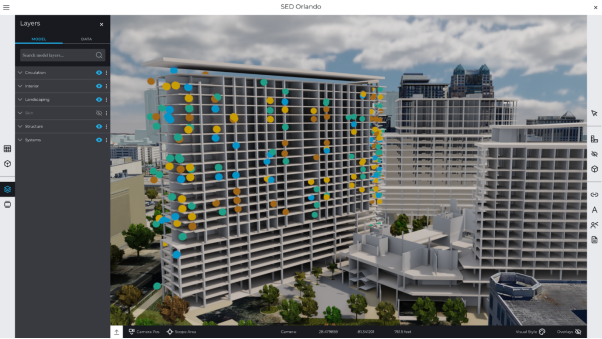 The report details potential efficiencies across a wide range of asset categories and use cases:
• First-time suitable designs of buildings and other physical infrastructure avoiding expensive modifications after completion
• Energy-efficient building designs maximizing solar capacity and yielding lifetime energy savings
• Resilient and safe infrastructure designs reducing policing and emergency response costs
• Optimized designs of utilities, streetlight, and surveillance networks to achieve the same coverage target with less CAPEX
• Design of COVID-19 proof buildings to deliver healthcare savings
• Digital Twins enable efficient eGovernment through seamless exchange of data with citizens for mediation purposes.
One of the leading suppliers of urban Digital Twin technology is Chicago and London-based Cityzenith, which featured in this research alongside Siemens, Microsoft, and Engie, and recently joined the World Economic Forum's Top 100 Global Innovators community.
Cityzenith founder and CEO Michael Jansen commented after reading the report: "As an architect by trade, I know how inefficient and over budget the built environment has been over the last 30 years or more, often causing delays in completion and inefficient use of materials due to the industry's lack of data and technology.
"It's a huge global problem as we seek a more efficient and sustainable model for our urban planning, and construction must catch up with the pace of emissions reduction in other industries such as manufacturing.
"Fortunately, Digital Twin technology is accelerating to provide much-needed solutions to these issues; modelling by software like our SmartWorldOSTM can manipulate huge amounts of data to enable smooth and accurate 'right first time and on time' construction on new projects and help retrofit older construction to cut emissions now and in the future.
"During the next 12 months, we will partner with at least ten international cities, to integrate our SmartWorldOS Digital Twin platform. We have also signed a major international contract to use SmartWorldOS to manage carbon emissions in other cities as part of the Race to Zero and movement towards a more sustainable and cost-effective energy transition."
Digital Twin technology has been named one of five top tech growth sectors, including nanotechnology, genomics, biotechnology, and AI.
Bonte at ABI Research concluded: "While the cost-saving advantages of Digital Twins allow cities to achieve fast ROIs, the increasingly complex nature of connected and smart urban infrastructure, especially in view of future smart urban concepts, will simply mandate the deployment of Digital Twins as critical, holistic management tools, similar to the role they play in other industries like manufacturing."