DLA Architecture has announced the start on site for the first phase of the £30 million mixed-use redevelopment of YMCA in Wimbledon.
This includes the delivery of a 121-room hostel with much improved amenity and a second phase delivery of 135 new private homes with ground floor retail spaces and public realm.
DLA was appointed by joint venture partnership Thornsett and YMCA St.Paul's Group following a design competition in 2018 and secured planning consent in June. Having had a presence in Wimbledon for 150 years, YMCA and has held ambitions to redevelop the site for over ten years.
YMCA St. Paul's Group CEO Richard James said: "YMCA has become a key partner to London Borough of Merton in the provision of supported accommodation for young and vulnerable people for many years. We are also home to a cross-section of the community who come through our one front door to access affordable activities. Whilst our work has evolved in response to the needs, our building desperately needs to catch up. DLA has designed a high quality but viable scheme that fits well with the local landscape in terms of height, massing and fabric. We're delighted to be breaking ground with this exciting development which will enable us to support vulnerable and young people as well as offer facilities that will benefit the whole community."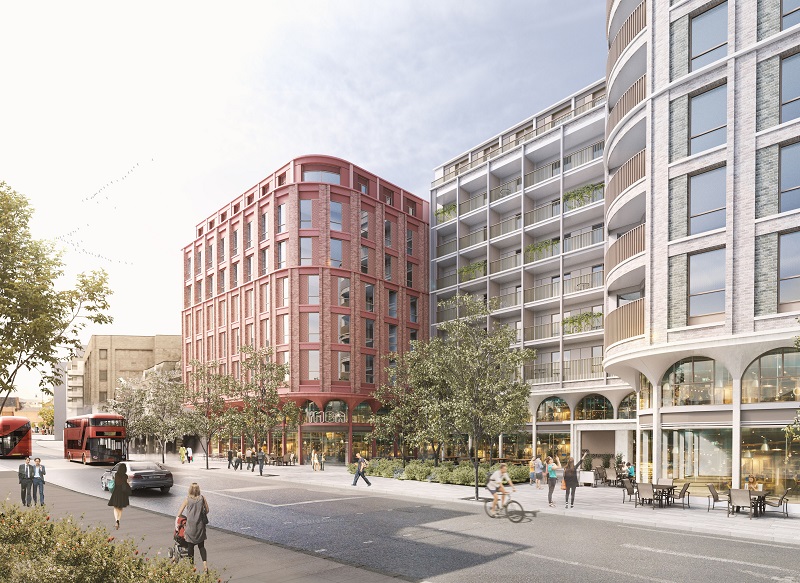 The new hostel will provide much improved facilities to allow residents a much better quality of life and support them back into independent living. These include ensuite bathrooms with shared kitchen facilities in every corridor, a gym, bigger studio space for fitness classes, a children's play area and new YMCA café.
The adjoining second phase of development of 135 private homes will financially support the redevelopment of the YMCA. Two commercial units are incorporated at ground floor level fronting along The Broadway, presenting job opportunities and reactivating this part of the shopping parade.
Alejandro Carrajo, Project Architect at DLA Architecture, said: "We are delighted to see progress for this exciting project which will significantly improve an important asset for the local community where YMCA residents and the neighbouring community can thrive.
"These are sustainably designed buildings, which aim to achieve a 100% carbon reduction through the delivery of a fabric first approach, an air source heat pump solution in both elements of the development and a range of other sustainable measures.
"The project programme is challenging since we needed to balance viability and phasing with contextual contemporary architecture. Local residents and planning officers asked us to create an architectural response that captures the allusive essence of Wimbledon town centre and we believe that we have delivered this."
Contractor Neilcott Construction is appointed for the first phase of this Wimbledon central site at 200 Broadway. Completion of phase one for the new YMCA facility is expected by Spring 2023 whilst the second phase of private residential units will complete in Summer 2025.
The design team for the planning stages also includes planning consultants, Daniel Watney, structural engineers, Elliot Wood, Box 20 as M&E consultants and landscape architect Philip Cave.
Mitchell Brand, Head of New Business at Thornsett Group said: "We have recently completed an award-winning development at Hackney Gardens with DLA. Their design excellence and contextual approach for the YMCA in Wimbledon has resulted in another high quality architectural solution for both Thornsett and our development partner."
DLA Architecture is an award-winning AJ100 practice which employs over 80 architects, landscape architects, technologists and graphic designers. Established over 40 years ago the practice has offices in London, Leeds and Manchester. Its expertise covers a broad range of sector including learning, sport, industry, care, workplace, housing, retail, conservation and re-use.
DLA has considerable expertise in designing new community spaces and housing. It recently completed the award-winning Hackney Gardens, a significant new project comprising community space and housing in Hackney which is shortlisted for the 2021 Housing Design Awards. The £21 million scheme was an enabling development between developer, Thornsett, The London Diocesan Fund (LDF) and The Parochial Church Council (PCC) of St John at Hackney. It also appointed on Chandlers Place in Sevenoaks, St Cecelia Place in Leeds, Equipment Works in London and Kelly's Yard in Hepburn.