Armacell, a global leader in flexible foam for the equipment insulation market and a leading provider of engineered foams, is extending its range of passive fire protection products for the commercial HVAC market.
With its new ArmaProtect range, reliable fire penetration seals for pipes and cables can be created quickly and easily.
Whether rigid floors, flexible walls, plastic or metal pipes with or without insulation, or non-insulated composite pipes, ArmaProtect offers specifiers and installers solutions for sealing off almost all types of building service pipes.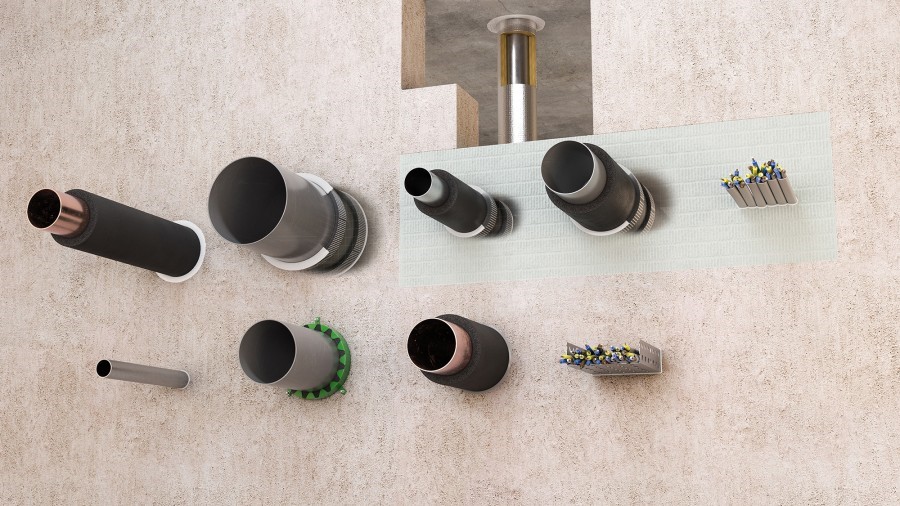 Offering intumescent fire protection wraps, pipe collars, ablative-coated mineral fibre boards, sealants and mortars, this new ArmaProtect range is an ideal addition to ArmaFlex® Protect, Armacell's unique fire protection solution for walls that combines high fire resistance with condensation control and thermal insulation in a single product.
Tom Merton, Armacell UK's technical specialist, explains: "Pipes, ducts and electrical cables penetrate fire compartments and form a path along which flames and smoke can spread. With our new ArmaProtect passive fire protection range, pipes and cables in fire walls and floors can be sealed off reliably and quickly.
"Depending on the type of service penetration, customers can use our latest innovation as a stand-alone solution or in a system."
By preventing fire spread between adjacent fire compartments, ArmaProtect and ArmaFlex Protect improve safety in buildings, they extend the time for building users to self-evacuate in the event of a fire and allow emergency response teams additional time to perform their jobs. Plus, they help ensure that wall and ceiling penetrations reliably pass building inspections, in accordance with local building codes, contributing to a smooth construction process.
All products have been tested and classified in accordance with the strict requirements of the related test and classification standards and European Assessment Documents (EADs) to obtain European Technical Assessments (ETAs), which provide extensive information on their performance.
ETAs increase planning and implementation certainty for specifiers and installers and allow construction products which are not covered by a harmonised European standard to be used throughout Europe.
Armacell provides comprehensive and user-friendly information on the coverage and installation of its passive fire protection products to ensure ETA-compliant specification and application.