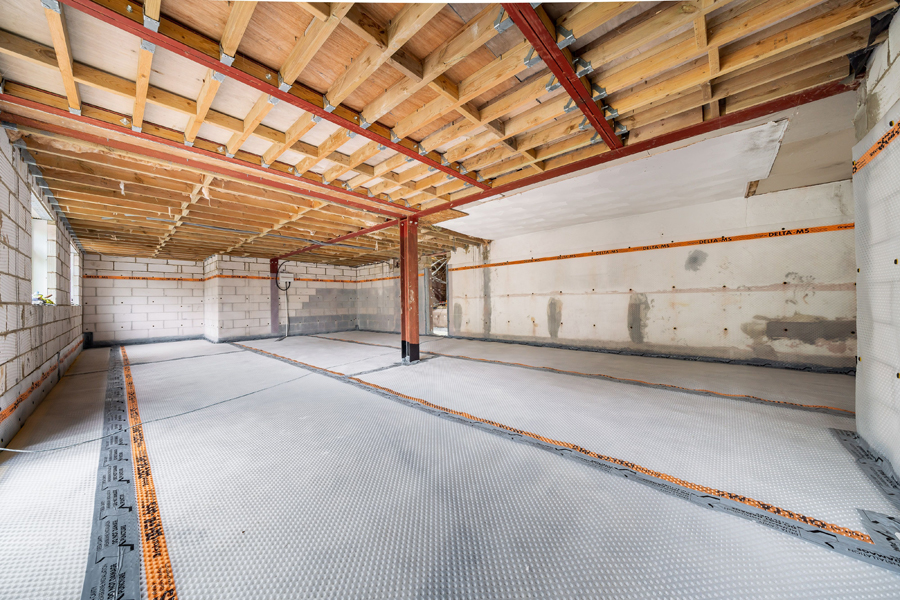 Overview
Delta Registered Installers, Arti Structural Waterproofing Ltd offered an effective, fast installation and maintainable, Type C waterproofing solution to a private dwelling on time and on budget!
The Scope of the project was to provide a structural waterproofing solution to a private dwelling with new build extension.
The property, situated on a sloping site gave the opportunity for the waterproof design to utilise the properties environment to allow for natural discharge of any potential water ingress.
The property was detached and retaining to the front and side elevations where the retaining ground slopes down and away from the property to a garden that continues to slope down to a small stream. The retaining walls on either elevation rise at their highest point to approximately 1500mm above the internal floor level.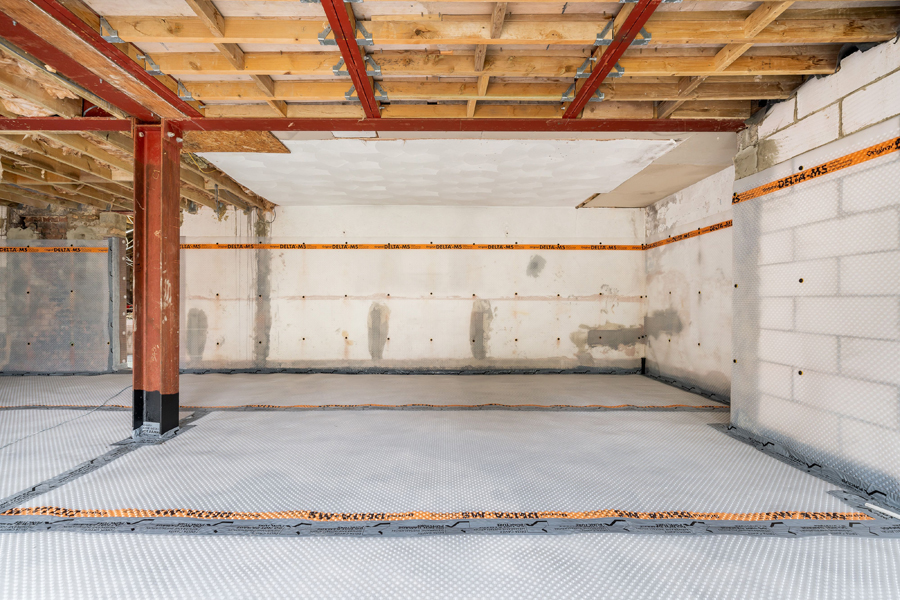 The internal walls of the property were original brick to the front and new cavity built concrete block. The floor to what was the original house is of solid concrete construction joining on to a newer block and beam floor construction.
When designing the most appropriate waterproofing system to any given situation, various design factors require addressing such as (but not limited to), final use of the building, the grade of waterproofing requirement under the British Standard, structural considerations based on the form of construction and in some cases, satisfying the requirements of building warranty providers.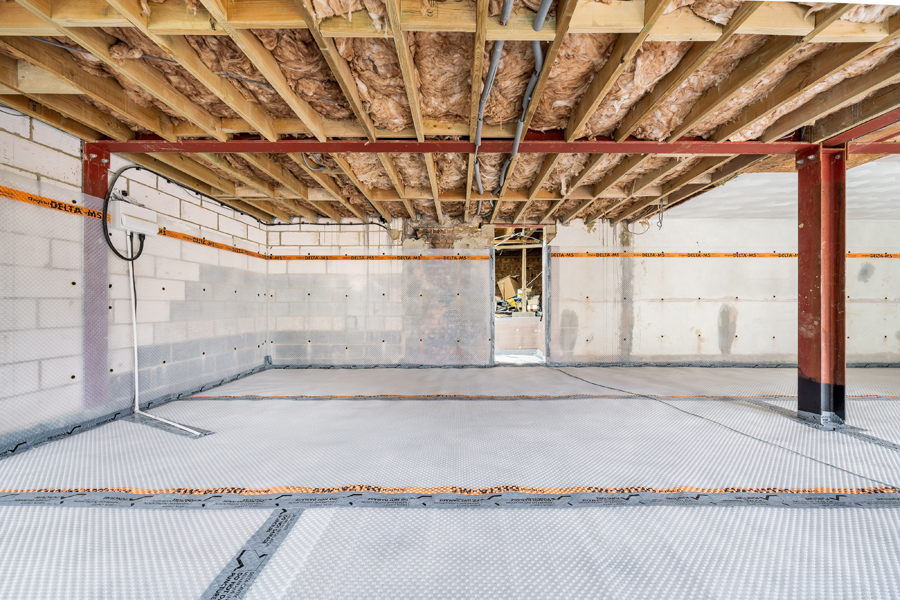 Methodology
Pre site inspections were carried out along with consultations with the homeowners, to ensure the waterproofing design not only meets BS 8102:2009 (Code of practice for protection of below ground structures against water from the ground) but also client expectations. The client sought to have a hands-on approach to the design which was warmly welcomed.
Arti's CSSW qualified surveyor and Delta's Technical Team discussed design approached along with the correct height to waterproof, to ensure BS8102-2009 requirements were met and the structure would be always kept dry (to Grade 3 habitable).
The site was sloping, so to achieve a level floor the new build extension had to be recessed into the slope which made the structure part retaining. Therefore, only part of the new build required protection for water ingress. WDS, CSSW and CSRT qualified Stuart Tansey worked with Delta's Technical Team to create specification suitable for this unique new build.
There were no geology reports or soil analysis, therefore the recommendations and resultant specification were based upon a high-risk assessment during the pre-site visit. Slight moisture ingress had been noted within the newly formed stairwell area, but the area had no recorded history of flooding.
Arti put together a cost effective and compliant cavity membrane solution that utilised natural drainage to manage any potential water ingress.
This project is only part retaining as it is situated on a sloping site with an external ground level barely one metre tall at its highest point. Installing a waterproof membrane floor to ceiling was simply not required as water will never reach the highest points of the structure.
Preceding the installation of the Type C Cavity Drainage System, Arti ensured the waterproofing design would easily be maintainable and repairable.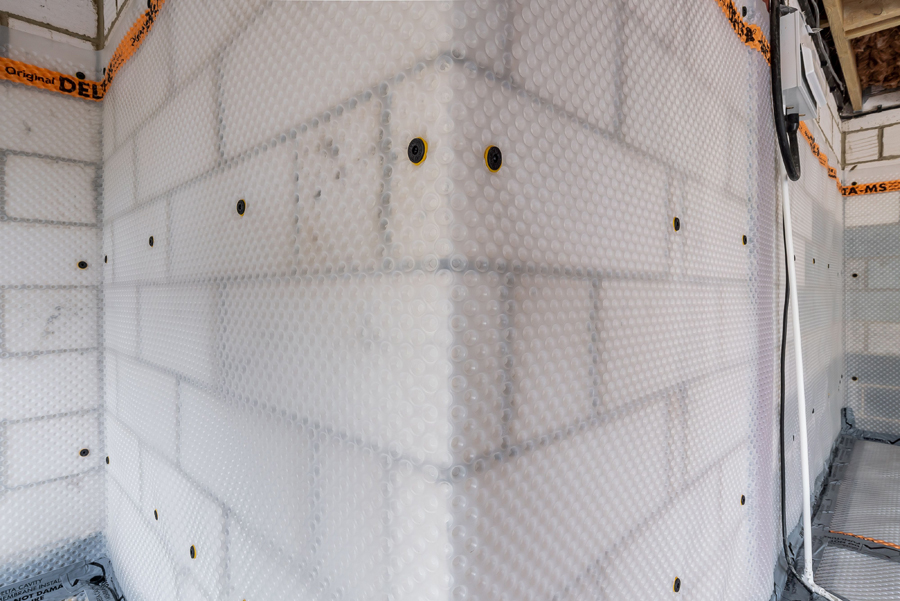 System Components
System Components should focus on:
Delta Products (in bullet form)
MS500
Delta Quikseal Plugs
Delta Cornerstrip
Delta Yellow Channel
Delta Inspection/Jetting Ports
Delta PT Lath
Delta PT plugs
Case Study Results
Completed in just three days and on budget. The homeowners were delighted and contacted Delta to give feedback:
"I just wanted to inform you that from initial meeting with Stuart Tansey on site, to completion of the project, the whole process was conducted promptly and with complete professionalism. This service was complemented by the managing director Mr Lucian Ardeleanu become personally involved providing his assistance and expert input with additional work I wanted carried out.
I would not hesitate to use their services again and would recommend Arti Waterproofing in future."
By not using specialist contractors, the project could have been over specified and waterproofed in areas that did not require waterproofing.