In the new normal, we're all going to have to get used to doing things differently and hygiene is something that will play a greater part in all our lives. That's why SALTO Systems, in partnership with BioCote® the market-leading antimicrobial technology supplier, has since 2011 incorporated antimicrobial silver ion technology in our electronic smart lock range.
Whether type of building you're constructing, your client will have a greater or lesser number of doors and that means staff and/or customers using them – each person transferring the bacteria on their hands to the door handle every time they go through it. However, the addition of BioCote's antimicrobial technology helps reduce microbes on door handles and improves hygiene creating a cleaner, more hygienic environment for both staff and customers.
The more hygienic the handle, the less chance of cross-contamination. This helps to reduce the spread of microbes as they are not then transferred from door to door and surface to surface. That's why SALTO has long seen and offered the benefit of having BioCote® added to our electronic lock products to contribute to customers existing cleaning and hygiene regimes. And it is now, more than ever, that this technology is proving its worth for projects in both the hospitality and healthcare fields – and many others besides.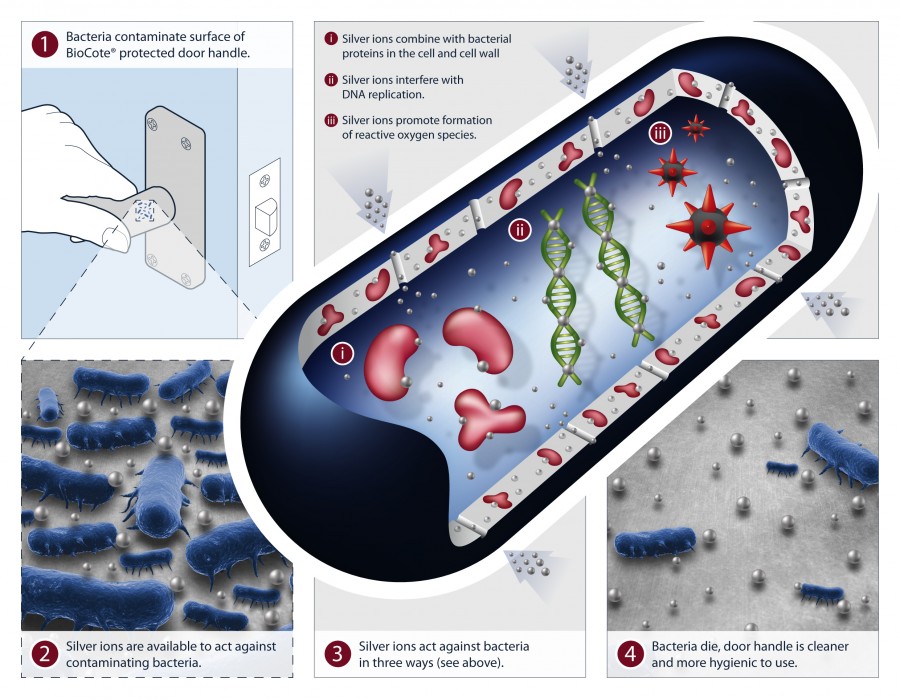 BioCote® has been successfully tested against a feline strain of coronavirus, showing a reduction of 90% in two hours, which is a positive indicator of the antiviral properties of the technology. Previous testing has revealed that BioCote® delivers 99.9 percent, 24/7 protection against an array of microbes including Influenza A H1N1, E.coli, Salmonella, and antibiotic-resistant CRE, VRE, and MRSA.
SALTO BioCote® antimicrobial protection consists of an invisible silver-ion technology which is integrated with the handle during the manufacturing process. SALTO added BioCote® as a standard additive for all the plastic devices it produces andalso offers BioCote® as an option on its complete line of electronic locks.
BioCote® cannot be wiped off or worn away, thus enhancing hygiene management and reducing the possibility of cross-contamination, and the finish is long-lasting and maintains its antimicrobial performance over the expected lifetime of the electronic lock products.
Our findings continue to show the positive impact of having antimicrobial coatings on our smart-locking product range with regards to reducing levels of bacterial contamination. BioCote® silver ion technology significantly reduces the level of microbes on SALTO escutcheons and door handles by up to 99.99 percent which is an incredible achievement.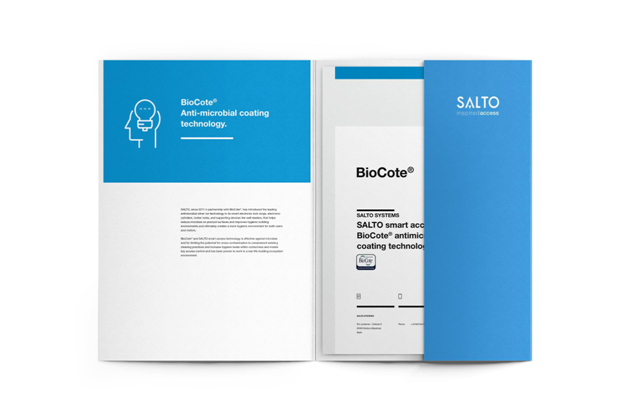 Current government guidelines recommend regular cleaning to minimize the spread of microbes in all types of buildings. However, beyond regular cleaning, little consideration has been given to alternate or non-traditional methods for limiting the potential for cross-contamination within a public environment. By effectively reducing a broad spectrum of microbes by up to 99.9 percent, BioCote® antimicrobial technology provides integrated and lasting hygienic protection that supports regular cleaning regimes and hand hygiene.
SALTO has been an innovative leader in electronic access control technology for two decades and
through our long partnership with BioCote®, are proud to be able to offer customers access control products coated with its hygienic properties.
SALTO has published a white paper that explains the use of BioCote® antimicrobial technology. To download a copy, click on the link below:
https://mcusercontent.com/46e9204e00bbde86637ea9871/files/2c486ff4-ceb1-43fc-b806-2e77ed46ddc8/SALTO_BioCote_2020_V3.pdf