Trade association, the Door & Hardware Federation (DHF), has announced the launch of a new publication in collaboration with The Guild of Architectural Ironmongers (GAI).
The newly published technical briefing, Guidance on CE Marking, Third Party Testing, Assessment and Certification, has been written to offer further clarification on the essential differences between CE Marking, Harmonised European Standards, Methodologies of Testing and Assessment, Fire Resistance Assessment Reports, and Third Party Product Certification.
In utilising the technical skills of both organisations, it is hoped the industry will benefit from key information outlined in the nine-page document.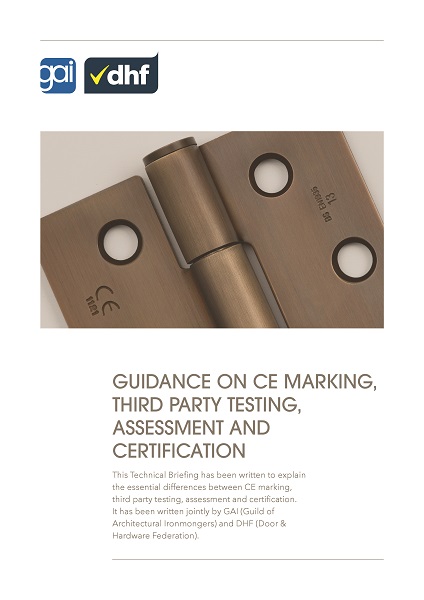 Formed in 1897, DHF remains the oldest trade association in the industry, and the 'go to' body for technical knowledge, information, advice, and practical help as well as training. It has more than 500 members, and in 2019, trained more than 1000 people.
The Guild of Architectural Ironmongers (GAI) is the only trade body in the UK representing the interests of the whole architectural ironmongery industry: architectural ironmongers, wholesalers and manufacturers. Focusing on education, technical support and community activities, it continues to promote the highest standards of professionalism both in the UK, and overseas.

DHF and GAI enjoy a productive and long-standing relationship, and therefore, partnering on a document of this nature was a logical development, as DHF's General Manager, Michael Skelding, explains:

"We are very pleased indeed to collaborate with GAI to launch a comprehensive guidance document that we know will provide a higher degree of transparency in an increasingly complicated field. In blending the knowledge, experience and capabilities of our two organisations, we hope to be able to afford accurate and up-to-date information to our members working in this sector."
GAI's Technical Manager, Douglas Masterson, adds:

"Members of both the Guild of Architectural Ironmongers and the Door & Hardware Federation have been frequently seeking clarification on the key differences between CE marking, third party testing, assessment and certification. Rather than publishing two separate documents it was felt that we could combine the technical expertise of both organisations and produce a single document on this topic for both sets of members. GAI and DHF have also jointly published the Code of Practice: Hardware for Fire and Escape Doors which is referenced in Approved Document B and its equivalent publications throughout the UK and Ireland."