One of the first developments of its kind to use SPSenvirowall's RendaClad System has been recognised at a leading national awards ceremony including collecting a new award for the first time.
Every year, the Insulated Render and Cladding Association (INCA) hold the INCA Awards to recognize the innovation and excellence in the external wall insulation (EWI) industry. Held at the MacDonald Burlington Hotel on November 28th, guests were entertained by comedian Hal Cruttenden and presented with their awards alongside their colleagues and peers.
Leading render and external wall insulation company SPSenvirowall and external wall insulation sub-contractor SERS Ltd scooped the Heritage Award for their work on the Bradley Lane buildings, based in Newton Abbott, at the Insulated Render and Cladding Association (INCA) Awards.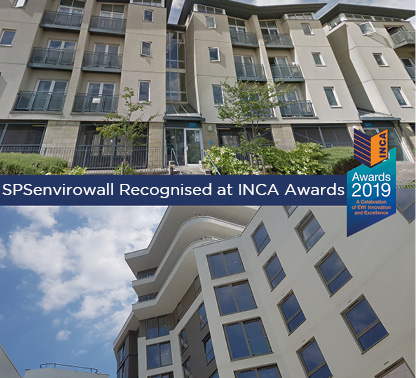 The properties on Bradley Lane utilises SPSenvirowall's RendaClad System which was developed for applying a non-structural and seamless rendered rain screen system to a timber-framed substrate. With the use of a silicone render colour (SC75) chosen from an extensive range, it has remained as crisp and clean as the day the building was completed despite its position alongside a busy road. For over 10 years, the building's clean and bright appearance has endured daily pollution and perfectly showcases the longevity of SPSenvirowall's RendaClad system and silicone topcoat finish.
SPSenvirowall and installers, Square 1, also picked up the Architectural Design Award for its work on Berry Court in Bournemouth. The first time for the company to do so. It features an attractively curved facade achieved due to the use of the SPSenvirowall system and skill of the contractor.
The two winning awards are a triumph and a true reflection of the quality of SPSenvirowall's external wall insulation systems and render products.
About SPSenvirowall

SPSenvirowall is a leading UK supplier of external wall insulation systems to the construction industry for new build, refurbishment and offsite applications.

Supplying insulation systems, high-quality decorative renders, façades and rain screen cladding solutions, SPSenvirowall offers a value-added and integrated service to any construction project.
Through an exclusive UK distribution partnership with Dynamic Cladding, SPS Facades Limited offers innovative external rain screen cladding systems with a wide range of glass and stone finishes
To find out more about SPSenvirowall and SPS Facades, visit www.spsenvirowall.co.uk or call 01535 661633.