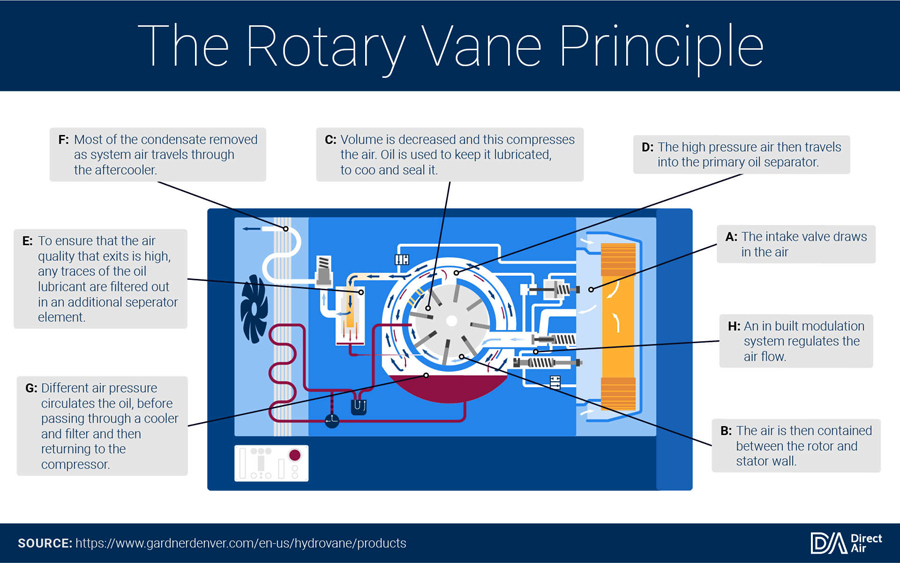 Air compressors are an incredibly beneficial tool throughout the industry. But have you ever considered how these machines work and which is best for you?
Direct Air have created an in-depth guide to help you with your search for the appropriate machine and ensure you get the most out of your air compressor.
Below is a brief overview of the various types that are available on the market.
The most common type of compressor. These machines function in the same manor, but dual phase has one extra step to the process.
Single phase compressors drawn in air, this is then compressed and sent to a storage tank.
Dual phase does the same, only the air is transferred into a second cylinder to be compressed again before storage.
Single phase is more suitable for home use, such as DIY. Dual phase are typically found in industrial use.
All compressors require lubrication in order to draw in air safely and efficiently.
Oil-free use a non-stick coating, commonly Teflon, to achieve this. They are often cheaper and easier to maintain. They are great for home use as they are far lighter than their counterparts.
Oil-based requires regular oil top-ups but are far more robust. Most industries will use oil-based, as even though they are more costly to purchase, their lifespan is typically longer as the coating for oil-free will eventually wear away.
In simple terms, a variable speed compressor (VSD) automatically adjusts the speed to the motor in accordance with the demand for air. This creates a far more energy efficient tool.
Fixed speed compressors send a continuous stream of power, these are cheaper and easier to maintain than their counterparts. They are more costly to run as they are not as energy efficient.
This are a form of piston compressor and are the most common models used.
A piston travels downwards, causing a sudden change in pressure. This forces the cylinder open and draws in air. As the piston travels upwards, the air is then forced out at a higher pressure.
These cool down quickly, but with more complex components, they can be harder to maintain.
These work in a similar way to scroll compressors but instead of using a piston, these rely on rollers.
Rollers are inserted within the shaft, with one side always in contact with the wall, these rotate at extreme speeds to change the pressure.
They have exceptional power capacity but feature limited cooling abilities.
One of the most common complaints regarding air compressors if the noise level.
Why not look into buying a low noise air compressor. This is achieved by a separate acoustic tank that contains noise and reduces it to roughly 40dB