Combining unrivalled workmanship, centuries of knowledge and the world's strongest and unique natural materials, Lundhs has cemented its reputation over centuries as a leading provider of 100% real stone, supplying exceptional Larvikite and Anorthosite natural stone to the commercial, residential and specification market across the globe.
The largest producer of natural stone in Northern Europe, Lundhs extracts rough blocks of high quality stones from its own quarries in Norway and exports the materials to stone factories around the world. With a portfolio of ten natural stone types, Lundhs works with a select network of distributors around the globe, with each product traceable from quarry to end product.
Crafted directly from nature's landscape, Larvikite is one of the world's most exquisite and unique natural stones. The product of minerals melting and mixing under extreme heat millions of years ago, Larvikite is a high density and non-porous surface and has a low lifecycle cost, offering both economic and environmental advantages. Durable, distinctive and 100% natural, Lundhs Real Stone kitchen worktops and surfaces boast high heat, water, scratch, UV and stain resistance as well as minimum maintenance.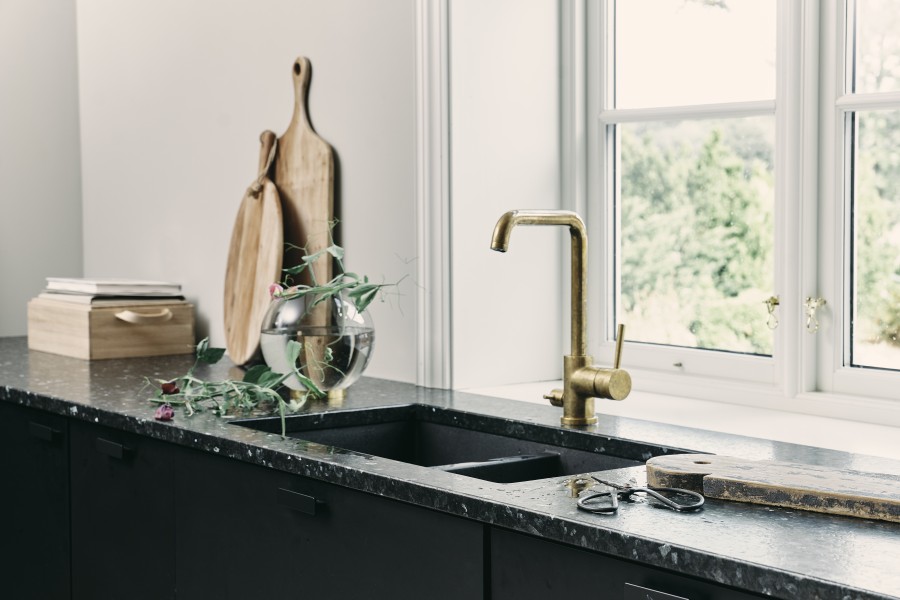 Natural stone for kitchens & bathrooms
Stocked by retailers and specified by architects and interior designers the world over, natural stone from Lundhs Real Stone is the perfect surface choice for kitchens and bathrooms.From kitchen worktops and splashbacks to bathroom countertops and surrounds, the impressive materials deliver on both practical and aesthetic qualities, no matter the application, thanks to its natural properties.
Family-owned for over 100 years
Steeped in family history, the Lundhs name upholds more than a century of quarrying tradition in Larvik, Norway. Following in his grandfather Alfred's footsteps, Thor Lundh founded Lundhs in 1962 and over fifty years later, Norway's leading exporter of natural stone is still family owned with Thor's grandson Thor-Anders Lundh Haakestad at the helm as CEO.
Unrivalled expertise & knowledge
Offering unrivalled expertise and advice regarding the use and sourcing of the stone, Lundhs prides itself on exceptional attention to detail. Each and every material is carefully extracted and sorted into selected colour and quality levels, suited to different types of use, ensuring sourcing of the right quality through its distribution network.