Method have redesigned recycling. Their innovative bins and leading philosophy of Open Plan Recycling have made recycling, waste and sustainable practice part of a buildings DNA. The system saves organisations time and money, while they recycle more and waste less.
Recently the organisation announced that moving forward the black components of their bins would be made of at least 50% recycled materials. Often introducing recycled materials is perceived to be a simple integration, however, recycled materials are highly varied by nature. Throughout the process, Method focused on maintaining the quality and durability of their products as well as considering what happens to the bins at the end of their life.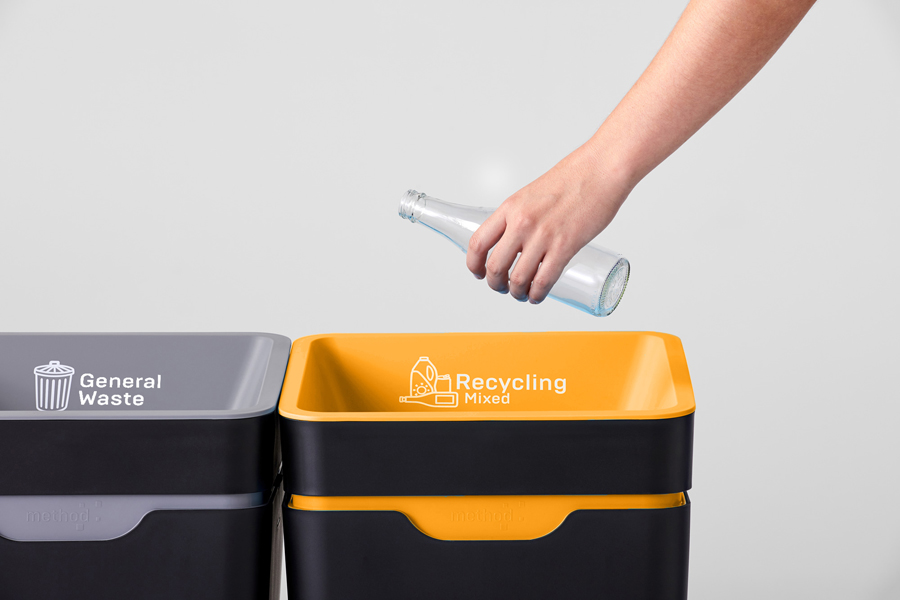 While Method had received some criticism for making a product out of virgin polypropylene, it was fully recyclable and the bins made of recycled materials needed to be also. Unfortunately, products that are made of recycled plastic are often not recyclable at the end of their life.
The company believed in their considered design process which has resulted in great success. Their new bins are still fully recyclable indefinitely while maintaining their quality, meaning that once recycled they can become new bins.
Method believes this is an exciting but ultimately small step in the development of their products.
At its core Method works to facilitate the circular economy, keeping materials in use for as long as possible. So it's great to see the bins capturing the materials to produce their own products and the journey isn't over yet. Methods internal research and development and sustainability teams will continuously work with suppliers and manufacturers to establish the supply and infrastructure in the aim to reach 100% recycled content.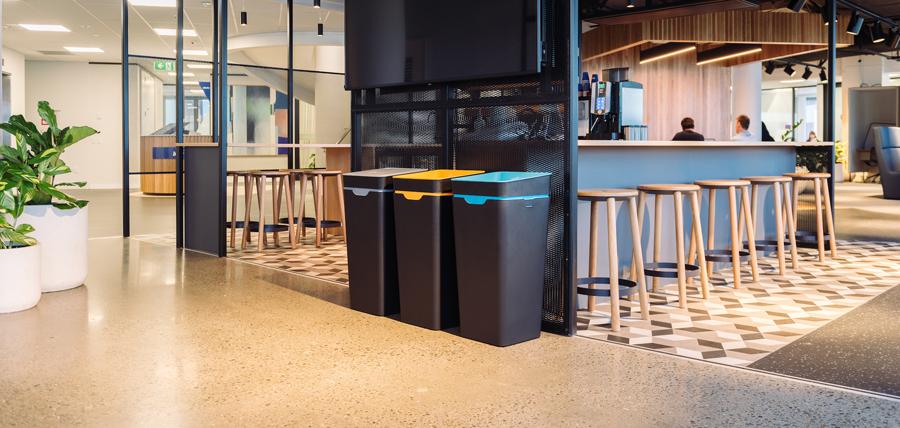 Method's recycling stations were designed to source separate waste and recyclables. Source separation is important to maintain the quality of recycled materials, such as to stop shattered glass contaminating paper materials, as this can severely damage the machinery. This is why Methods bins engineer behaviour change with colour-coded lids and clear icons to help users to accurately sort their waste.
Method's good looking recycling bins are helping organisations to recycle more and waste less in facilities around the world. From stadiums such as the Sydney Cricket Ground to large co-working spaces such as The Office Group - Method's recycling stations are a featured part of a building's design, acting as a visible statement of an organisations commitment to sustainability.
Canva, the design giant, introduced Method bins into their offices as they work towards some lofty sustainability goals. They continue to scale quickly around the world and needed a good looking recycling and waste solution that was easy to implement and maintain.
"Method's beautiful bins allow the sometimes daunting task of having four waste and recycling options to be manageable and scalable across our ever expanding offices."
Improve the environmental footprint of your next sustainable design by making recycling a part of the furniture. Find out more about Method - www.methodrecycling.com