We are excited to announce the launch of Delta Membrane Systems Limited's newly designed website www.deltamembranes.com. We hope you enjoy our new uncluttered design that is more user-friendly and easier to navigate. Our goal was to create a user-friendly browsing experience for our trusted and valued customers and business partners alike.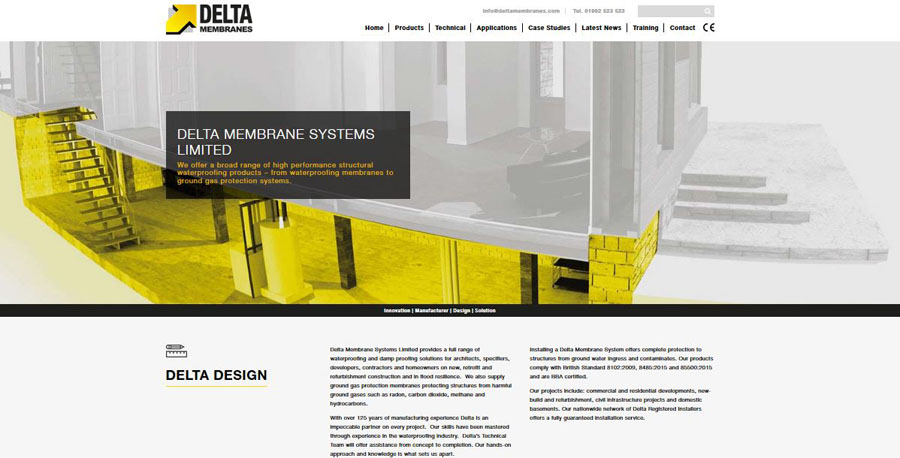 HOMEPAGE
Our current and prospective customers will find useful information about our products and services on our homepage. There are direct links to Applications, Training Courses along with our Latest News, Case Studies and Products of interest.
Any promotions, new products, technical brochures, special offers and resources can be found in this section.
PRODUCTS
Our fantastic new mobile friendly website will offer an easier, fresh approach to viewing our products. We have created new Product categories:

Cavity Drain Waterproofing
Package Pumps and Basemen t Drainage Systems
External Drainage Protection Systems
Ground Gas Protection and waterproofing Systems
Ground Gas Protection Systems
Damp Proofing Products
Liquid Applied Waterproofing Systems
Pre-Applied Waterproofing
Ancillaries
Within our product pages there are helpful links to Technical Drawings, Specifications, Applications and Downloads.
TECHNICAL
Advance your product knowledge with access to our resource section with guides, technical drawings, independent test data and approvals. We have put together new Technical categories:

Technical Drawings
Brochures and Guides
Independent Test Data & Approvals
Material Data Sheets (MSDS)
National Building Specification
BIM Library
Video Suite
Frequently Asked Questions
We envisage our Technical categories will grow over the forthcoming months where we hope to add Installation Guides, Technical Guidance notes and more.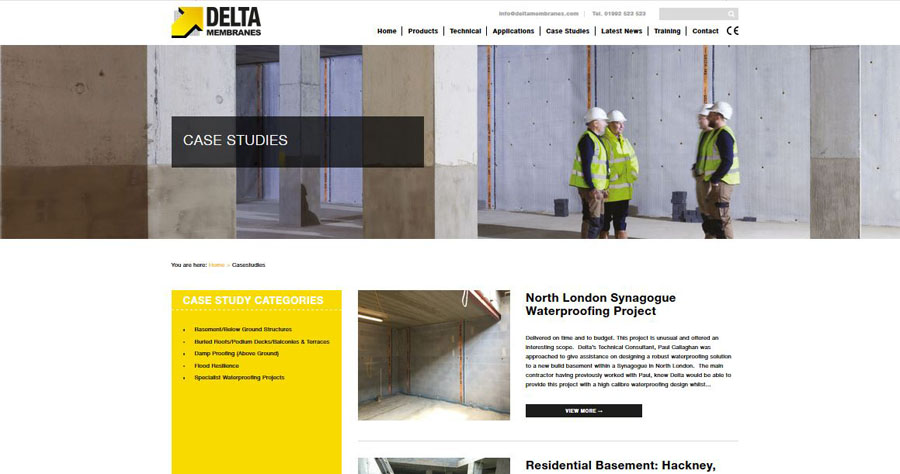 APPLICATIONS
Product Applications. Here you will find useful information for the application of our products.
We have created new Application categories:

Cavity Drain Systems (Type C)
Basement Drainage & Protection
Combination Waterproofing Systems
Gas Protection Systems
Gas Protection & Structural Waterproofing Systems (Combined Solutions)
Waterproofing Buried Roofs/Podium Decks/Balconies & Terraces
Pre-Applied Waterproofing Systems
Resin Injection Systems
Expansion Movement/Construction Joints
Barrier Protection/Tanking/Waterproofing
Damp-Proofing (above Ground)
Specialist Waterproofing Projects
Flood Resilience, Resistance and Recoverability
CASE STUDIES
Case studies are particularly useful for understanding how different products within projects fit together and how different elements work in creating a robust solution.
We have created categories which work in harmony with our products, applications and technical menus:

Basement/Below Ground Structures
Buried Roofs/Podium Decks/Balconies & Terraces
Damp Proofing (above Ground)
Flood Resilience
Specialist Waterproofing Projects
LATEST NEWS
Find updates and expert analysis on all things Delta in our latest news. We will be constantly updating our content with helpful information, articles, blogs, company announcements and new products.

TRAINING
With a variety of courses, covering a wide breadth of topics, we can help build your skills and confidence as a waterproofing professional.

We're sure that in the new Delta website you will find all the information that you need. We'd love to have your feedback about you experience with the website, please feel free to send us an email info@deltamembranes.com or ring 01992 523 523.