The Royal Institute of British Architects (RIBA) has this awarded the 2018 RIBA Stirling Prize to Bloomberg, London by Foster + Partners.
The prestigious annual prize is awarded to the UK's best new building.
Bloomberg's pioneering new European HQ has been credited as the world's most sustainable office and is thought to be the largest stone building in the City of London since St Paul's Cathedral.
With a restrained exterior and dynamic interior to encourage collaboration, Bloomberg is comprised of two buildings connected by a bridge. Each sit either side of a new public arcade, which re-establishes an ancient Roman road. This complex scheme also incorporates new access to Bank Underground station, cafes and restaurants, and a museum displaying the Roman Temple of Mithras, which was discovered on the site sixty years ago.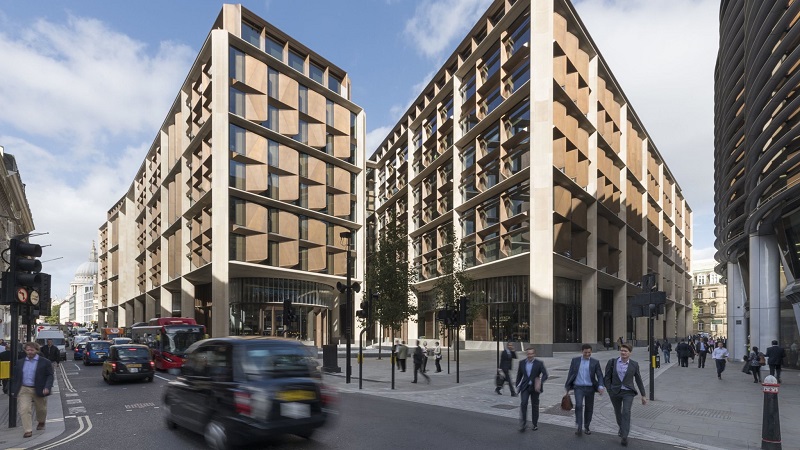 Given its vast footprint (a whole city block), the client, Michael Bloomberg wanted to ensure the building would be a 'good neighbour'. Three new public spaces open-up this area of the city and the sensitive, handcrafted sandstone exterior and bronze window 'fin' details ensure the building sits comfortably within its surroundings.
The procession through the building is dynamic and highly choreographed. On arrival, you enter the 'Vortex' – a dramatic double-height art work formed from three curved timber shells. From here, high-speed lifts carry you directly to the sixth floor 'Pantry' – a large concourse and café space with views across the City. A 210m high bronze 'ramp' that is wide enough for impromptu conversations without impeding the flow of people, winds down and links the office floors below. Workspaces are clustered in the wide open-plan floors which are filled with pioneering new technologies including multi-function ceilings fitted with 2.5 million polished aluminium 'petals' to regulate acoustics, temperature and light.
RIBA President Ben Derbyshire, said: "After vigorous debate, the jury reached a unanimous decision - Bloomberg's new European HQ is a monumental achievement. The creativity and tenacity of Foster + Partners and the patronage of Bloomberg have not just raised the bar for office design and city planning, but smashed the ceiling.
"This building is a profound expression of confidence in British architecture – and perfectly illustrates why the UK is the profession's global capital. This role and reputation must be maintained, despite the political uncertainty of Brexit."
The jury for the 2018 Prize was comprised of: Sir David Adjaye OBE (Chair); RIBA President, Ben Derbyshire; 2017 RIBA Stirling Prize winner, Alex de Rijke; former Artistic Director of the Southbank Centre, Jude Kelly CBE and Almacantar Property Director, Kathrin Hersel. Architect Simon Sturgis was appointed as sustainability advisor.
The winner of the 2018 RIBA Client of the Year is the UK property development company, Argent. The RIBA's annual award recognises the 'key role that a good client plays in the creation of fine architecture'.
Since 1981, Argent has delivered some of the country's most impressive mixed-use developments including residential, educational and cultural projects. They have been key to the regeneration of many UK cities, in particular Brindley Place in Birmingham and St Peter's Square and the Northern Quarter in Manchester.
Argent have received this honour for their recent award-winning projects, most notably the regeneration work in London's King's Cross including R7 by Duggan Morris Architects, Gasholders by Wilkinson Eyre, Gasholder Park by Bell Philips Architects and Victoria Hall King's Cross by Stanton Williams.
Old Shed New House, the radical transformation of a farm shed into a sustainable new home designed by Tonkin Liu Architects, has won the 2018 Stephen Lawrence Prize.
The Stephen Lawrence Prize aims to encourage new, experimental architectural talent, celebrating and rewarding projects with a construction budget of less than £1 million. First awarded in 1998 in memory of Stephen Lawrence, who was taking steps to become an architect before his untimely death in 1993, the £5,000 Prize has been sponsored by the Marco Goldschmied Foundation since its inception.